2023 NFL playoff picture: Ranking all 12 AFC wild card contenders, from upstart Texans to surging Broncos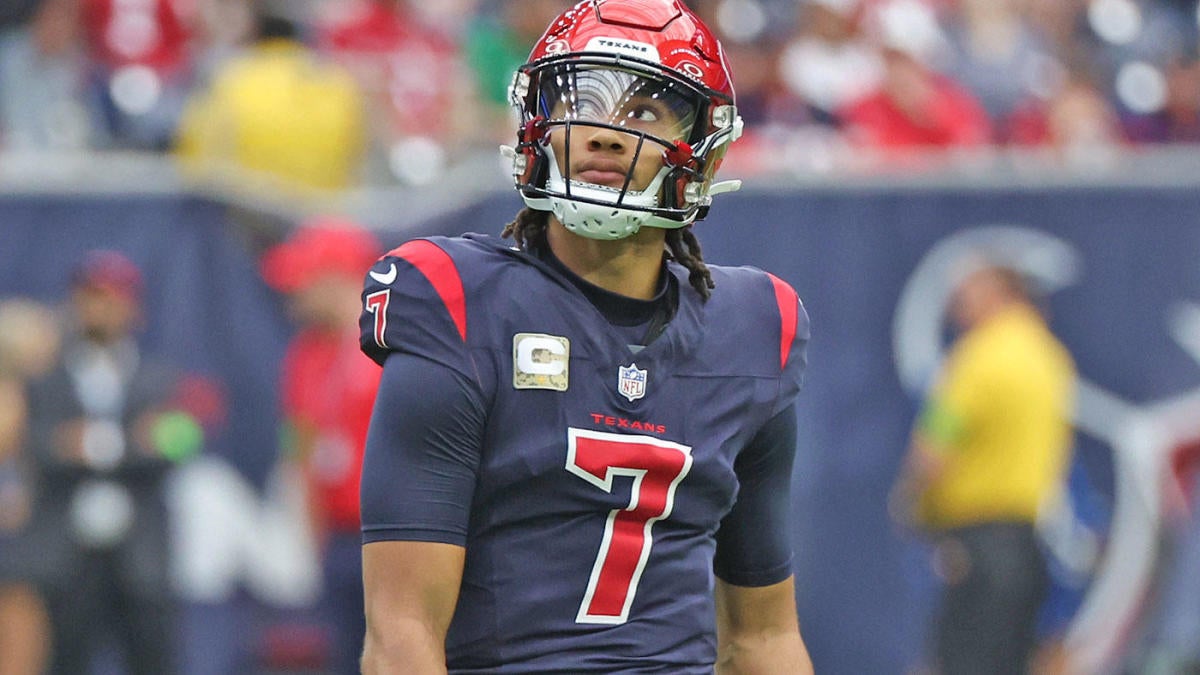 The 2023 NFL season is flying by, and the AFC experienced quite a shake-up this past week. Both the Cleveland Browns and Cincinnati Bengals lost their starting quarterbacks for the year, which opened up things not only for their rivals in the AFC North, but in the AFC at large.
Let's discuss the 12 teams vying for wild-card spots as we enter Week 12. Which ones are legitimate contenders, and which don't have a realistic shot to even make the dance? 
Playoff simulation percentages via SportsLine
Current AFC division leaders
These can change, but here are the top four seeds at the moment:
AFC wild card contenders, ranked
The Patriots are the worst team in the AFC, and contemplating a quarterback change. Should we do a Bill Belichick landing spots piece? Will he be traded to the Washington Commanders? Or maybe Los Angeles Chargers?
Playoff chances: 0.0%
Wow, Tennessee's season went downhill quickly. Rookie quarterback Will Levis has shown some promise, but that's become increasingly harder to do behind this offensive line. The play up front has affected Derrick Henry too, who managed just 38 rushing yards against the Jaguars on Sunday. The Titans are the worst team in the AFC South this year, and 3-14 dating back to last season. Only the Arizona Cardinals have been worse in that span. 
Playoff chances: 0.5%
10. Cincinnati Bengals (5-5)
Losing Joe Burrow sounds like a death sentence for this team. Cincinnati will have to rely on its defense, which ranks third-worst in total yards surrendered per game (386.1), and 12th-worst in points allowed per game (22.6). Jake Browning has some playmakers around him such as Joe Mixon, Ja'Marr Chase, Tee Higgins and Tyler Boyd, but the young quarterback is going to have to play at a very high level if the Bengals want to shock the world and make the postseason. Additionally, Tankathon believes the Bengals have the toughest remaining schedule in the NFL. 
Playoff chances: 2.4%
I want to like Robert Saleh, but he stuck by a historically bad quarterback until he basically couldn't anymore. I'm not talking about this year, I'm talking about last year. Then, after Aaron Rodgers went down in the season opener, Saleh put Zach Wilson back under center and hoped for different results. Nov. 13, he told reporters Wilson was playing "pretty well." Exactly seven days later, Wilson was benched for Tim Boyle. It's almost like the Jets should have explored their options at quarterback before the trade deadline, you know, like everyone said. Yes, the offensive line play has been terrible. But if that's issue No. 1, Wilson has been issue No. 2. 
The Jets defense has been impressive this season, which just adds to the disappointment the fan base must be feeling. New York has now lost three straight, and has scored a combined 24 points during this losing streak. I think Boyle may actually be an upgrade over Wilson, but it's hard to imagine the Jets being a playoff team at this point. They face the Dolphins twice over their next four games. 
Playoff chances: 3.3%
Interim head coach Antonio Pierce is 2-1 as lead man, and even his 20-13 loss to the Dolphins on Sunday was impressive. This Raiders defense held the Dolphins out of the end zone the entire second half, and gave their offense chance after chance to pull off the upset. Unfortunately, Vegas was unable to, as the Raiders scored zero points in the second half while Aidan O'Connell accounted for three turnovers in the final 30 minutes. 
What the Raiders have shown over the past three weeks is that they are feisty. I don't think coach Pierce can pull a Rich Bisaccia and get the Raiders to the postseason, but Vegas isn't some easy 'W' on the schedule. 
Playoff chances: 3.7%
The Colts are a tough team to figure out. One week, they'll upset Lamar Jackson and the Ravens in overtime on the road, then get blown out by the Jaguars, then drop 38 points on the best defense in the league and later win a gross affair against the Patriots in Germany. What are we supposed to make of Gardner Minshew and the Colts? Looking at their remaining schedule, they host Baker Mayfield and the Tampa Bay Buccaneers on Sunday, travel to Tennessee to take on the struggling Titans, then come the Burrow-less Bengals, followed by the Pittsburgh Steelers, Atlanta Falcons, Raiders and Houston Texans. Hmm. A run to the postseason is absolutely on the table. The defense is just going to have to cut down on the points they are allowing (24.8 PPG, seventh-worst in the league) and Minshew needs to take care of the ball. An interesting team to follow, for sure.
Playoff chances: 25.8%
6. Los Angeles Chargers (4-6)
Is Brandon Staley a fired man walking? The Chargers have lost five games by three or fewer points this season. No other NFL team has more than two such losses. Justin Herbert has been outscored 32-3 in the final three minutes of regulation this season, and his receivers had multiple bad drops in their most recent loss to the Green Bay Packers. 
The Chargers defense is a clear problem, as they allow 393.6 yards of total offense per game, which ranks second-most in the NFL. Jordan Love, who had never had a 300-yard passing game in his career entering Week 11, dropped 322 yards and two touchdowns on this secondary. L.A. has lost two close games in a row now with Baltimore next up on the docket. Last year, Staley's squad went from 6-6 to 10-7 to make the postseason. The Chargers will need a run like that to make the dance this season. 
Playoff chances: 14.6%
You have to credit the Broncos for this incredible turnaround. Once 1-5, Denver has now won four straight, including victories over the Chiefs, Buffalo Bills and red-hot Minnesota Vikings. The Broncos have allowed fewer points during this win streak (68) than they did in that historic Week 3 loss to the Dolphins (70). The 17 points per game allowed over the last four contests ranks best in the NFL, as does their +11 turnover margin. Denver's defense forcing turnovers has certainly been the difference in these games. 
Now, the offense is still a major question mark. Russell Wilson is playing better than he did last year, but he's crossed 200 passing yards just once in the last six games. The offense didn't do much against Minnesota, although Wilson did put together the game-winning touchdown drive at the very end. That was the lone touchdown Denver scored Sunday night, as the Broncos went 1-5 in the red zone. Bottom line, the Broncos aren't the pushovers they were early in the year. 
Playoff chances: 12.9%
4. Pittsburgh Steelers (6-4)
The Steelers have failed to reach 400 total yards in 58 consecutive games now, and have been out-gained in 10 straight games! I felt like the Steelers had the talent necessary on offense to improve as the year went on, but now I'm starting to doubt that. Maybe the firing of offensive coordinator Matt Canada will change that. Kenny Pickett threw for 106 yards on Sunday vs. the Browns. He's thrown zero touchdowns in four out of his last five games, and has as many multiple-TD games in his career as Tommy DeVito of the New York Giants. A total of 315 quarterbacks have 500 passing attempts since the merger. Only one has thrown a touchdown on fewer than 2% of his attempts: Kenny Pickett (1.9%).
The Steelers have a good shot of making the postseason because of their remaining schedule and their defense, but it's hard to consider Pittsburgh legitimate contenders.
Playoff chances: 67.5%
3. Buffalo Bills (6-5)
After falling to 5-5 following their embarrassing loss to the Broncos, Josh Allen and Co. rebounded to destroy the Jets, 32-6, which I thought was somewhat predictable. The Bills offense ranks top 10 in yards per game and points per game. All they need to do is not turn the ball over and avoid silly penalties. Allen either leads or is tied for first in passing touchdowns (22) and total touchdowns (29). However, he also ranks first in interceptions (12) and giveaways (15). 
The injuries on defense really hurt the Bills' status as Super Bowl contenders, and their remaining schedule is very tough. Next up are the Philadelphia Eagles, then the bye week followed by the Chiefs and Dallas Cowboys. Allen has a chance to engineer an impressive turnaround. We'll see if it happens. 
Playoff chances: 26.7%
2. Cleveland Browns (7-3)
Dorian Thompson-Robinson didn't set the NFL world on fire in his second career start, but he limited himself to one turnover and put together a game-winning drive. Kevin Stefanski just needs to keep it simple for his rookie quarterback, and then rely on that run game and historically good defense.
The Browns have allowed the fewest yards per game (243.3) through 10 games since the 2008 Steelers, who won the Super Bowl with Defensive Player of the Year James Harrison. Cleveland held Pittsburgh to 19.2 yards per drive on Sunday, and are on pace to allow the fewest yards per drive (18.8) by any team since the 1991 Eagles. It's also worth mentioning that the Browns are an NFL-best 4-0 this season in games decided by three or fewer points. They say defense wins championships.
Playoff chances: 87.3%
1. Houston Texans (6-4)
The Texans are one of the stories of the 2023 NFL season. Yes, C.J. Stroud is a stud and the favorite to win Offensive Rookie of the Year, but this team has been impressive as a whole. Stroud threw three interceptions against the Cardinals last week, yet still won. Devin Singletary has gone back-to-back with 100-yard rushing outings, and rookie wideout Tank Dell may be the best rookie wideout in franchise history — which is wild to say considering Andre Johnson put up 976 yards and four touchdowns in his first NFL season with the Texans. Dell is on pace for 1,244 receiving yards, and has already caught six touchdowns.
The Texans are 6-2 in the last eight games, with their only losses coming on walk-off field goals. Are they the best team in the AFC South? Remember in Week 3, they walked into Jacksonville and waxed the Jags, 37-17. As it stands now, Houston only has two teams left on the schedule with winning records. This Sunday's matchup against the Jags in Houston will be one to watch. 
Playoff chances: 73.6%