Billie Jean King and Tory Burch on Changing the Game for Women—in Sports, Business, and Life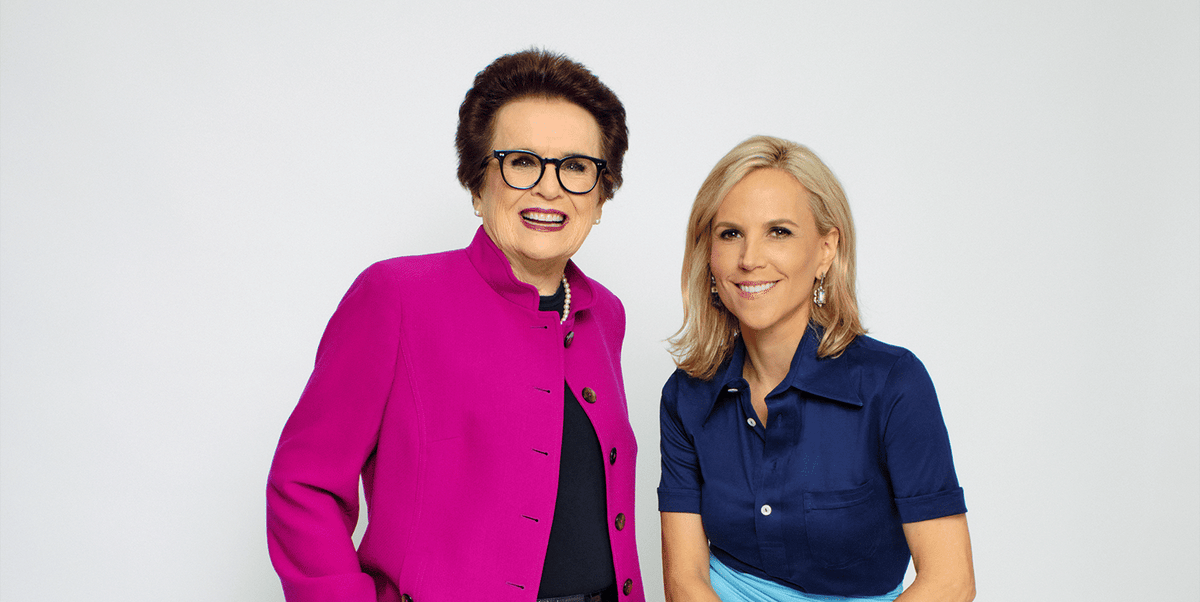 Since their respective entrées into fashion and sports, designer Tory Burch and tennis star Billie Jean King have used their platforms and influence to fight for women's equality.
Burch, who serves as the executive chairman and chief creative officer of her eponymous brand, launched the Tory Burch Foundation in 2009. "I've focused on the concept of building a business where purpose is a given," she says. "That was unheard of 19 years ago, when I started my company; people did not believe in that." Along with supporting female entrepreneurs by providing access to capital, financial education, and digital resources, the foundation hosts an annual summit where leaders across a range of fields engage in a full day of conversations tackling the most pressing issues facing women. Last year, King joined Burch onstage for a discussion about her trailblazing tennis career and how she helped pave the way forward for the female athletes who followed.
It has been 50 years since King beat 55-year-old retired Wimbledon champion Bobby Riggs in what was promoted as the Battle of the Sexes. (Riggs challenged King, then 29, to the match to attempt to prove the inferiority of the female game.) But to remember her accomplishments within the context of a man's (failed) agenda diminishes the full scope of her achievements. In 1970, King, along with eight other female players, broke away from the United States Lawn Tennis Association (now the United States Tennis Association) to start their own women-only tour with prize money that would reward players more equitably. Launched as the Virginia Slims Circuit, it grew into the Women's Tennis Association in just three years. That same year, King also founded the Women's Sports Foundation, a nonprofit dedicated to advancing the lives of women and girls through sports, and she has since continued to tirelessly campaign for gender parity and LGBTQ+ rights.
In 2020, the Fed Cup—the premier international team competition in women's tennis since 1963—was renamed the Billie Jean King Cup in honor of the pioneering player. For last year's finals, which took place in Glasgow, Scotland, in November, King wanted to begin a new tradition of bestowing the victors with a custom-made winner's jacket, so she enlisted Burch, her longtime friend and an avid tennis player, to design the garment. Rendered in "Billie Blue," the sharply cut blazer will, like King's iconic cerulean Adidas sneakers, remain an emblem of triumph and empowerment for decades to come.
Here, King and Burch discuss the importance of role models, building meaningful legacies, and tennis fashion's bold new serve.
---
BILLIE JEAN KING: People don't understand what sports do for women. In sports, you learn the culture of business. Ninety-four percent of women in C-suites identify with being an athlete, so sports also point to leadership. Sports teach girls and women to learn to trust their bodies and to be strong, not only physically but emotionally and mentally, and they help with confidence. And another thing, in a recent study on which sports increase life expectancy, tennis came out number one. We live almost an extra decade if we play it, Tory. And you play a lot more tennis than I do.
TORY BURCH: I'm laughing.
BJK: That's why you're such a good fit for the Billie Jean King Cup and all the other things we do together.
TB: You're always someone that I've looked up to. Women have not always been included in our history books, but you have, and that's a huge deal. When I was a young girl, having you as a role model was extremely important. It showed me that you could dream big and you could achieve anything. I have this blind faith in you because of who you are and the way that you changed the dynamic for young women, men, and all genders. You have shown the world what is possible.
BJK: You do have to see it to be it a lot of the time. What I've always done is visualize something and then ask myself, "How can we get there?" And then we start. It's dream it, build it, dream it, build it. And that's what you've done with your fashion brand, Tory.
TB: I wasn't aware of gender inequality when I was young. I grew up with three brothers, and I never realized that I couldn't do exactly what they could do. It was when I got into the workforce that I really saw that. I realized I could show women and men of all ages that we need to have a voice and speak up where we see inequity. When I founded my company, my plan was to start a global brand to empower and finance women in the United States. It's been a journey.

BJK: That's what's fun about it. You don't have that gratification at the end if something is easy as much as you do when it's challenging. I really like fashion. If you look at history, fashion tells you what's going on. Back in the late 1800s, when tennis really got started, women could not show their ankles or their wrists and had to wear a corset. It's shocking what they had to deal with. But you can see how things were loosened up as time went on. In the 1900s, women started showing their wrists and their ankles and got rid of the corset. Tennis fashion was always fascinating to me.
TB: I have been thrilled to see how much tennis fashion has evolved and how tennis players today are embracing more individualistic outfits on the court. I think that it is a symbol of empowerment and confidence: People are going out and giving everything they have, and they need to feel like themselves while doing that. To see Serena [Williams] and others not restricted in what they have to wear now shows the sky's the limit.
BJK: Players also have input with apparel companies today. I had input back in the day too; it was so much fun working with designers. I always wanted to be more on the cutting edge. It's more fun.
TB: Billie, I think what you represent is a fearlessness. And I think that's what I see when I see Serena come onto the court dressed how she does. There's a fearlessness to it, and I love that.
BJK: The biggest difference in tennis now from my perspective is that the acceptance level is so much greater. When I was younger, women couldn't discuss anything; we couldn't just be ourselves. When we started the women's professional tennis tour in 1970, I couldn't talk about what was on my mind at all. Being part of the LGBTQ community, I was considered a sociopath until 1973. I was told that if I talked about my sexuality or my challenges, we wouldn't have a tour. That's not going to happen today. In fact, they celebrate those things. Now athletes are prioritizing their mental health over the game. I love it. I love the fact that they have choices. I love that they have physiotherapists, athletic trainers, massage therapists, and all these other things that we didn't have. But I also know it can go away in a heartbeat.
TB: This year is the 50th anniversary of the Battle of the Sexes. I don't know that I remember watching it—I was around five years old—but I remember that I knew about it, and obviously it had a lot of impact. I thought there was an arrogance to Bobby Riggs, like why wouldn't Billie beat him? That was what my attitude was.
BJK: That was huge because 90 million people all over the world saw it. It changed tennis forever; everybody was on a tennis court the next day. Also, I think women got a lot more self-confidence. I had so many women come up to me so excited about their lives. They'd tell me they were never going to try to do something but that I changed their mind and they were going to go for it. It was about social change, and I'm glad I won, because we had just started the Virginia Slims Circuit in 1970, and the Battle of the Sexes was in '73. I also founded the Women's Tennis Association in '73, which was really pivotal. I wanted the men and women to be together in an association, and the men always said no. So we finally just started our own. It took more than 34 years to get equal prize money for women at the majors. It was the same with the World Cup of Tennis; men have had the Davis Cup since 1900.
TB: How did it feel to be in Glasgow for last year's event, with the whole cup being named after you, which is the only name it should be called?
BJK: I get embarrassed about that. It was started in 1963 as the Federation Cup, and I was on the inaugural U.S. team. I was 19 years old. I was so excited because I love team sports and I love representing something bigger than myself, and there's nothing bigger than your country. I remember yelling at the other two members, Darlene Hard and Carol Caldwell. I said, "We have to win this, because look at this trophy. As the years go on, everybody's going to see that we won the first cup." They renamed it the Billie Jean King Cup in 2020, so now I'm more involved. I really want to make it into a much bigger, more inclusive event. I've got all kinds of ideas for it. Last year, I went to you and said, "Tory, we want to give this cup a winner's jacket like at the Masters golf tournament," because they give a green jacket to the winners there. I can't tell you the excitement around the blue winner's jacket you designed. First of all, the Swiss have never won. They won it for the first time. You should have seen their eyes dancing when they got their jackets. I've never seen anything like it. The jacket is going to be very meaningful as time goes on.
TB: It's really beautiful. I studied what you wore in your matches, and you had these blue Adidas sneakers, so we decided to design the jacket in that extraordinary color. To call it "Billie Blue" seemed quite fitting. Do you want to talk about the message you wrote that is on the inside of the jacket?
BJK: It says, "Congratulations on winning the 2022 Billie Jean King Cup. As a member of the first winning team at the Federation Cup in 1963, I dreamed of sharing this title with women like you. Tory Burch shares my passion for tennis and women's empowerment. We designed the champion's Billie Blue jacket to symbolize your incredible win and how far women have come in sports. Together, we can make equality a reality." It's really beautiful.
TB: It was super meaningful to see photos of the winning team in the jackets. It really feels like this was bigger than the blazer and very much part of something truly transformative for women.