Black's Blog: Placemakers of the world unite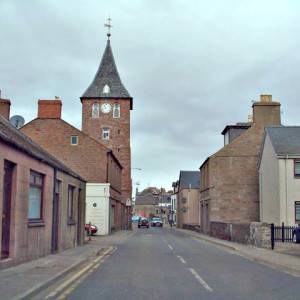 Jimmy Black ponders on placemaking, and a 20 minute neighbourhood which is 864 years old
When I think about it, I grew up in a perfect 'place'. In our burgh of 2,000 people there were shops … an ironmonger, draper, newsagent, three butchers, two bakers, one fishmonger, one shoe shop and a co-op. That leaves out the decorator, the electrical store, three garages and a mysterious shop called the Strathmore Supply Store where they measured loose tea out of little drawers. We also had a hero in footballer Alan Gilzean.
Local kids walked to school (most taking less than 20 minutes), and folk worked in the chicken factory or the agricultural engineers or on the farms. The railway brought visitors to the Royal Hotel and took great barrels of berries away in the summer. With some exceptions, people had houses, with inside toilets.
There was a choice of protestant church: presbyterian or episcopalian, and the roman catholic church made a comeback when the cinema closed. We even had a council, a town hall, a Toc H and a Lodge, and of course there were five pubs and a cafe with the best ice cream.
I'm not sure if anyone 'made' that place, or if it just grew organically out of the prosperity of powerful monks and rich, fertile soil. The challenge for planners, developers, social landlords, government agencies and politicians is to restore that sense of belonging, safety and connection in places which have fallen into decay. But all of these worthy people speak their own jargon and work to their own agendas. What brings them together for the common good?
Our guests on the latest Scottish Housing News podcast may provide an answer. The demolition of a large retail store in Alloa could have resulted in a bog standard development of flats with an empty retail space beneath, but fortunately Clackmannanshire Council had greater ambitions. They worked with Architecture and Design Scotland (ADS) and others to consult widely with professionals and local stakeholders to work out what would make a good 'place'.
The council required to provide more dementia friendly housing for an increasing elderly population, but also needed to ensure that older people would want to live in a town centre development. Pubs and shops might seem essential, but they can also be a disincentive, depending on the behaviour of those who use them. Whatever they built would need to complement the historic, listed buildings nearby.
Planning a housing development is one thing. Making a 'place" is another. The Place Standard requires answers to fourteen separate questions about all the things which made my town seem complete. In the podcast we hear that the Place Standard provided a common language, and the opportunity for stakeholders to agree a way forward.
If you want to see the result of their conversations, there is an excellent brochure produced by Kingdom Housing Association, and an ADS Alloa Case Study.
It's time to reveal the identity of my 'perfect' town. Well, nowhere's perfect, and Coupar Angus (otherwise known as The Jewel of Strathmore), has taken a few knocks over the years. As in many other places, you'd now find it hard to buy a pair of socks, a pound of haddock or a train ticket to Dundee. Even so, Coupar Angus has been a twenty minute neighbourhood since the year 1159. Placemakers … visit, and learn.
The Scottish Housing News Podcast is co-hosted by Kieran Findlay and Jimmy Black. All episodes are available here as well as on the following platforms: