Forth Bridge stars in new campaign celebrating Scotland's rich heritage | HistEnvScot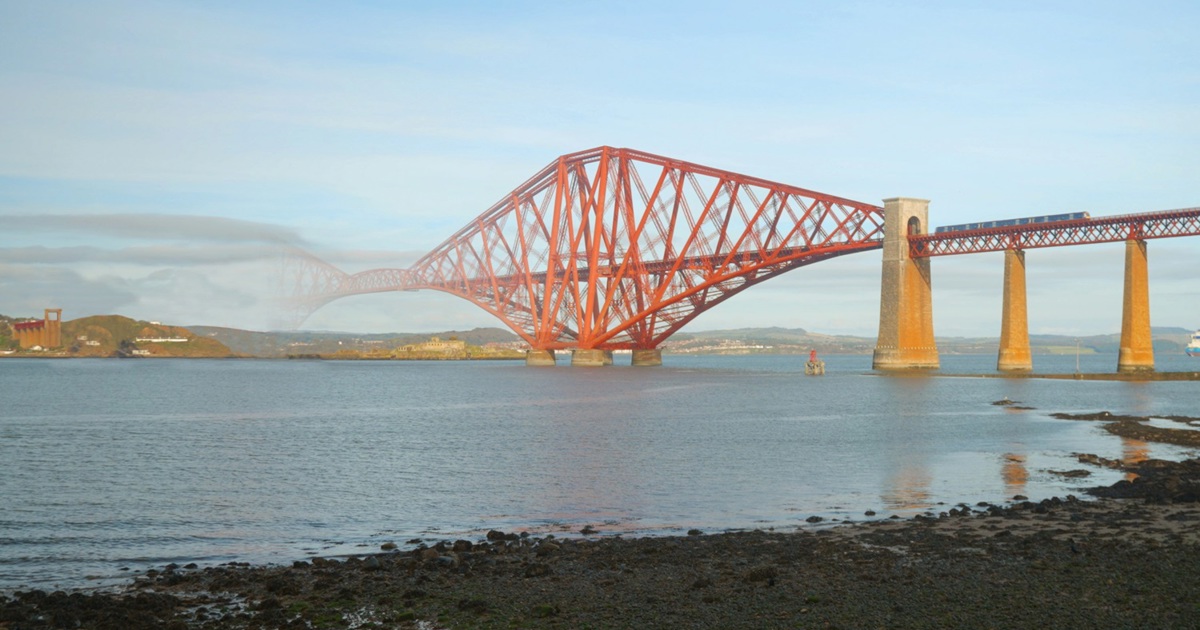 One of Scotland's most iconic landmarks is starring in a new campaign by Historic Environment Scotland (HES), showcasing the country's rich historic environment as the organisation shines a light on the heritage we see all around us, every day.   
The Forth Bridge, which is a designated world heritage site alongside global landmarks such as the Sydney Opera House and President's Heads in Mount Rushmore, is featured in the new campaign video which highlights the broad-spectrum heritage covers – from highstreets and industrial landmarks to visitor attractions and cultural venues.  
 The bridge is shown as one of seven unique heritage sites that feature in the video, highlighting the diversity we see all around us, from the physical environments to intangible cultural heritage across the country. 
 To provide further opportunities to engage with heritage, HES, who are Scotland's largest operator of visitor attractions, is offering free admission by pre-booking online, to its Historic Scotland winter ticketed sites the first Sunday of the month between now and March 2024. 
 Alex Paterson, Chief Executive of Historic Environment Scotland, said:
Scotland would be a very different place without the language, culture, buildings, and artefacts that have helped shape it. The campaign that we've launched today shows that heritage is everywhere; it's a living part of our world, that we come into contact with every day, and brings with it a number of benefits. 
 "86% of people report a wellbeing benefit from engaging with heritage and the historic environment has a clear part in making a responsible contribution to the Scottish economy. Playing a vital role  as we build a wellbeing economy, we need to recognise that our heritage matters.
 "World-renowned for its historic places, archaeological sites, and ancient landscapes, the campaign helps us stop and appreciate the heritage that surrounds us, even in the unusual and less likely places. From the bridges we travel across to the culture and arts that have helped shaped our communities – they all form our historic environment." 
 Scotland's historic environment was worth £4.6 billion to the economy pre-pandemic, welcoming over 18million visitors, and supports a number of areas from the reuse of historic buildings to contributing to Scotland's net-zero targets.
Scotland has over 58,000 designations covering both cultural and natural heritage. HES lists structures of special architectural or historic interest, and looks after more than 300 properties in care. Investing in communities through grant funding, over £12 million is awarded by HES per annum for projects ranging from high street and streetscape projects, supporting skills and retrofit projects.   
 The Heritage Matters video is available to watch on YouTube. To learn more about the historic environment that shapes the places and communities you live in, or to join in the conversation about why #HeritageMatters, speak to HES online at @histenvscot, or visit the website. For further information on the Historic Sundays campaign visit historicsundays.scot. Pre-booking online is essential. 
List of participating Free Sunday's sites. 
 Aberdour Castle 
Arbroath Abbey 
Blackness Castle 
Bothwell Castle 
Caerlaverock Castle 
Craigmillar Castle 
Dirleton Castle 
Doune Castle 
Dryburgh Abbey 
Duff House 
Dumbarton Castle 
Dunstaffnage Castle 
Edinburgh Castle 
Elgin Cathedral 
Fort George 
Huntingtower Castle 
Huntly Castle 
Jedburgh Abbey 
Linlithgow Palace 
Maeshowe Chambered Cairn 
Melrose Abbey 
New Abbey Corn Mill 
Skara Brae 
St Andrews Castle 
St Andrews Cathedral 
Stirling Castle 
Tantallon Castle 
Urquhart Castle 
About Historic Environment Scotland (HES) 
We are the lead body for Scotland's historic environment, a charity dedicated to the advancement of heritage, culture, education and environmental protection. It is at the forefront of researching and understanding the historic environment and addressing the impacts of climate change on its future, investigating and recording architectural and archaeological sites and landscapes across Scotland and caring for more than 300 properties of national importance. We are also the lead on delivering Scotland's strategy for the historic environment, Our Past, Our Future.
Historic Scotland, Scran, Canmore, The National Collection of Aerial Photography (NCAP), The Engine Shed, Stirling Castle, and Edinburgh Castle are sub-brands of HES.
View our press pack and keep up to date by registering to receive our media releases. Already registered? You can unsubscribe at any time by following the unsubscribe link, included in every email.
Follow HES
X: @HistEnvScot | @welovehistory
Facebook: @HistoricEnvScotland | @VisitHistoricScotland
Instagram: @HistEnvScot | @historicscotland
Blog
LinkedIn
For further information, please contact:
Julia Woolman
Historic Environment Scotland Media Office
07721 959 962
communications@hes.scot