Indigenous knowledge to be used to overcome food security challenges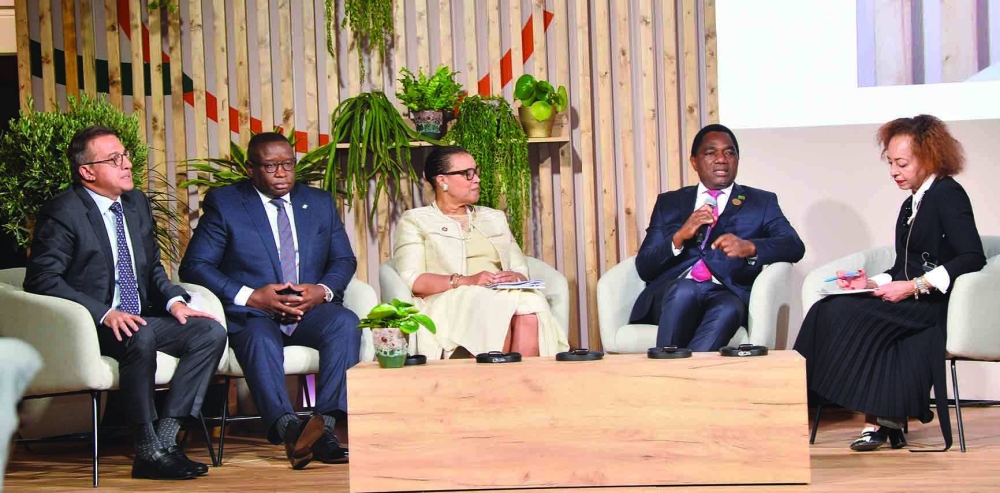 Speakers at a panel discussion during the inaugural Earthna Summit on Wednesday highlighted the importance of traditional knowledge and indigenous practices to be incorporated in modern day practices and the need for them to be shared among different countries.
Addressing a session titled 'Global Challenges to Food Security: Indigenous Knowledge Systems and their Applications', they noted that food security is rather a global issue and it needs to be addressed with serious urgency.
The speakers also noted that countries need to balance advancements in technology with respect for "old knowledge" to tackle food security challenges that risk escalating global instability.
President of Zambia Hakainde Hichilema, President of Sierra Leone Julius Maada Bio, Commonwealth Secretary-General Patricia Scotland and UPL global CEO Jai Shroff were the members of the panel moderated by Dr Zeinab Bashir Elbakri, former vice president and international development expert, African Development Bank.
Hichilema told delegates that the world cannot afford to "discount" traditional agricultural methods, and that the knowledge of the past should be woven into the framing of modern policies.
"Our people knew how to manage land and read the weather, whether it would be a flood year or a drought was coming, which crops would survive in semi-arid areas," he said. "In our modern quest to produce more food and tackle the risks of climate change, we need to make space for this knowledge, and then we can adapt that history and heritage and apply our modern technology and volumes of production."
"Food security is national security, it is regional, continental, and global security, and without it we are courting instability the world does not need," he highlighted.
Dr Maada highlighted that many of the indigenous methods of agriculture retain value. "But we have forgotten or neglected this, or used new technologies which can destroy such methods.Technology can help us leapfrog to a situation where we produce huge sums of agricultural products without polluting our environment, but we also need to preserve indigenous methods," he explained.
According to Scotland, one example of indigenous knowledge being revived to address today's food security challenges is the ancient wells in Sri Lanka that irrigate land in times of drought.
"In our modern arrogance, we had perhaps disregarded what indigenous people knew for many years," she said. "This is a real moment for us to show respect for our old knowledge as well as respect for the new. Old knowledge can inform how we develop technologically, and allow us to take advantage of our history and future in a way that melds better for everyone."
Meanwhile, Shroff, stressed the importance of "farmer resilience", saying: "There is no food security without resilient farmers – there is no way they will be able to feed the world if they cannot feed their families."
At the Earthna Summit, government representatives, QF's Earthna Centre for a Sustainable Future, and other partners confirmed a renewed commitment to strengthening food production, storage, and supply chains across the developing world. They announced plans to develop a dedicated food security programme to improve food-system resilience between producing and importing countries in Africa, India, and Latin America.
Summing up the major topics of discussion, Elbakri highlighted there is an urgency that has to be maintained. "We should understand that food security is not at national level but a global level issue that needs to be taken care of for global security. We can't afford to mess it up.
"The traditional values and indigenous practices which are really helpful have to be shared among different countries. They should also be digitalised so that it can be accessed at all levels across the globe. We must also make a distinction about what works and what does not and there should be international cooperation in these aspects," she added.