Keir Starmer: A Labour government would 'deliver economic prosperity' to Scotland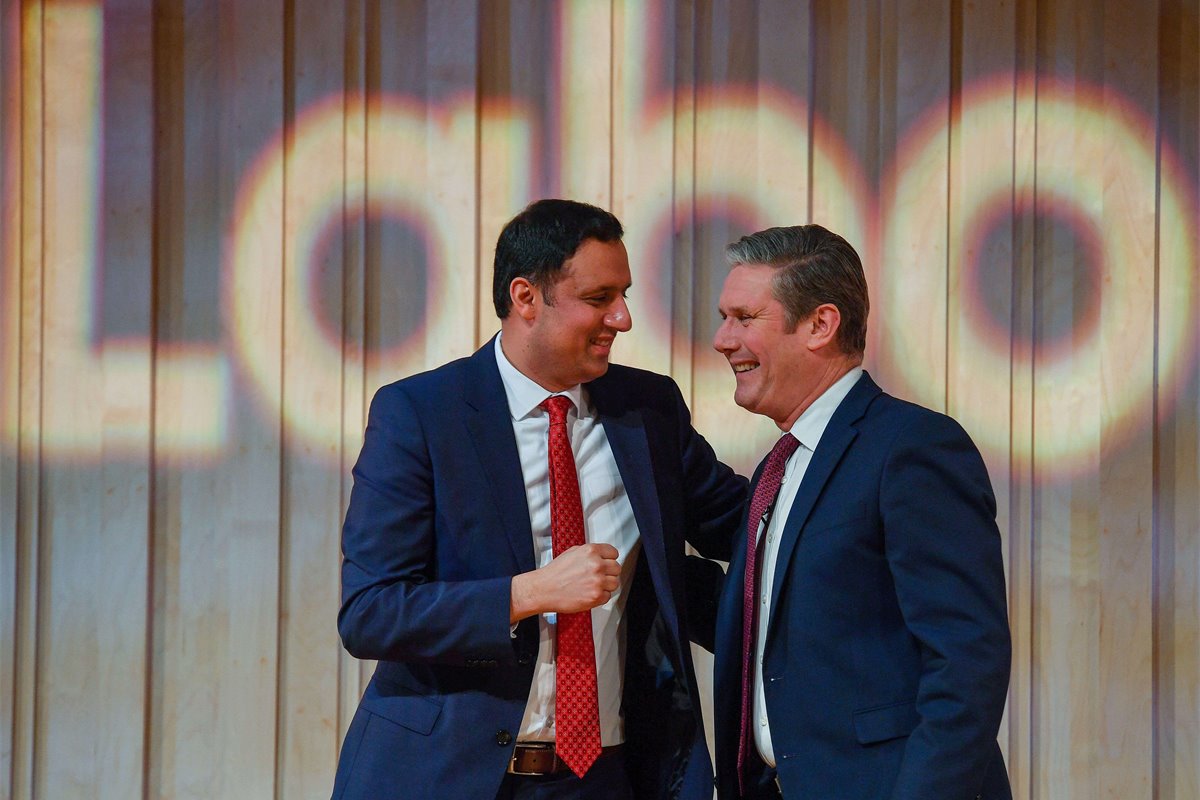 Labour leader Keir Starmer has pledged to "unlock Scotland's economic potential" should his party win the next general election, saying his government would "deliver for Scotland's highly educated workforce and innovative firms".
Visiting Glasgow along with Scottish Labour leader Anas Sarwar and shadow chancellor Rachel Reeves, Starmer said the Scottish economy had stalled under the SNP but that a UK government led by him would "provide Scottish businesses with the stability and partnership from government to invest and develop".
He aims to achieve this, he said, by channelling investment into start-up firms, "turbocharging" plans to support spin-out businesses, securing membership of the European science fund Horizon, and setting up a National Wealth Fund that would invest in early-stage renewable technologies.
Starmer said Scotland has "always punched above its weight in terms of innovation and creativity", but that that "great spirit of innovation and creativity is hamstrung by two governments who've failed to deliver economic prosperity".
"Scotland's genius can deliver opportunity, create highly skilled jobs and unleash the full potential for everyone who lives on these islands," he said.
"That's my promise to people here, that a government I lead will be one in which every region and nation of the UK will be heard.
"A mission driven government that will end sticking-plaster politics, will unlock the pride and purpose that is in every community, will give this country its confidence, its hope, its future back.
"And put Scotland's innovation at the heart of an economy that is the fastest growing in the G7."
It comes after SNP leadership hopeful Humza Yousaf yesterday unveiled his own "ambitious, progressive plan to use the full powers of independence to abandon the failed Westminster economic consensus" should his campaign be successful.
Yousaf, who is running against business secretary Kate Forbes and former community safety minister Ash Regan, said that if he, as first minister, was able to secure independence for Scotland he would "unlock growth and boost productivity while ensuring the benefits are felt by everyone in Scotland and not just the privileged few".
He would do this by abolishing anti-trade union laws; using oil and gas revenues and new borrowing powers to create a £20bn fund for affordable housing, renewable energy and higher-speed internet in remote areas; rejoining the European Union; and legislating so workers could buy out businesses that are for sale or under threat.
"When we achieve our independence, we will take a radically different, progressive path – bringing workers and trade unions into the heart of economic decision making and reversing Westminster's draconian anti-trade union legislation," Yousaf said.
"We will make it easier for co-operatives to buy out businesses, sharing the wealth and power with workers, and we will rejoin the European Union, giving Scotland's businesses access to the single market."
Forbes, meanwhile, has made a series of economic pledges, including establishing a new housebuilding body and growing food and drink exports.
"My commitment is to pursue economic prosperity by investing in our key industries," she said during a visit to the Scotch Whisky Experience in Edinburgh earlier this week.
"Whisky exports have increased significantly, which is to the credit of workers across Scotland. However, the whisky industry is about more than food and drink. It is also about the impact of tourism and the investment in renewable energy. The overall impact is enormous, particularly in rural and remote parts of Scotland."
Liz Smith, the Scottish Conservatives' shadow finance secretary, rubbished both the SNP's record and Starmer's plans, saying neither party would deliver economic growth for Scotland.
"The SNP Government's record on productivity and growth is dreadful, but there's no reason to think Labour would do any better," she said.
"Keir Starmer is ignoring the fact that, under Anas Sarwar, Scottish Labour has consistently backed the very SNP policies that have stifled economic growth and made Scotland uncompetitive.
"Labour would back further taxes on workers and businesses and continue the SNP nationalisation agenda which has seen hundreds of millions of pounds thrown at failed businesses like Ferguson Marine and BiFab.
"They've opposed freeports and joined the nationalists in wanting to close down Scotland's oil and gas sector as soon as possible. When it comes to unleashing Scotland's economic potential, Labour would be following Nicola Sturgeon's playbook to the letter."