Kenny believes he has unfinished business with Ireland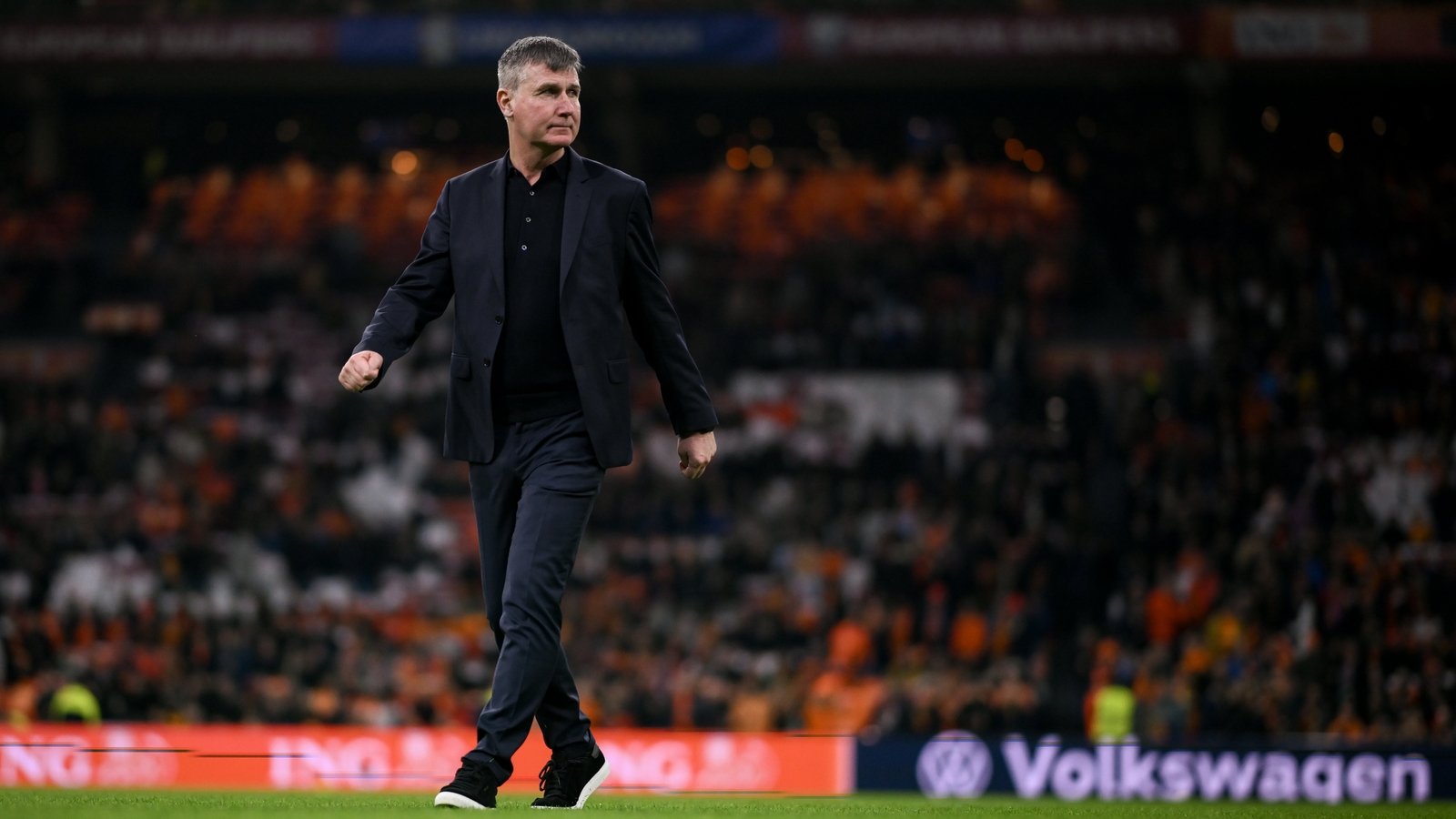 Ireland take on New Zealand on Tuesday night in what might be the last game of Stephen Kenny's tenure, however, the national team manager still believes that he has some unfinished business after three years in the role.
Kenny has been building a new-look squad, while implementing a radical approach to the game, and while the results have not been forthcoming, the manager is convinced that the team have a bright future together.
Attempting to remain positive on Saturday night following the defeat to the Netherlands, Kennny was reluctant to criticise any of the players but rather focused on the character of the team, who have endured a torrid time throughout the Euro 2024 qualifying campaign.
Kenny stressed the courage that the squad has shown in what was an extremely difficult group involving both France and the Netherlands, and while Ireland put in good performances, albeit losing ones, in the home fixtures, they were evidently out of their depth in the two away games in Paris and Amsterdam.
But the manager is adamant that the team's fortunes are only going to improve over the coming years as this emerging outfit will benefit from this bedding-in period, which has yielded little in the results department but has proved fertile ground for the development of a new-look squad.
"You're not going to rebuild a team without setbacks, it's not realistic," said Kenny, speaking to the media after the game in Amsterdam.
"Obviously, I'm biased in this viewpoint. Yeah, of course I do," said Kenny, when asked about whether he had unfinished business, regardless of the results.
"I have seen what the team can become now. All of those players have come through together and you have a bit of pain with that.
"The group was an exceptionally tough group but there has been a lot of pain trying to rebuild a team.
"But of course, I think the team will be a really good team. There are some players missing tonight, you talk about cutting edge players, like Chiedozie Ogbene and Michael Obafemi who provide real pace, they are two amongst others who are not there tonight.
"I may be in a minority but that's sport and the tough side of sport. We have a game on Tuesday and we're going to be positive going into it and try and prepare well. There will be some changes and so forth. We want to finish strong and then it's completely out of my hands."
The manager's time in charge of the senior side was in troubled waters from the very beginning of his three-year stint at the helm, as his side were beaten seven times in their opening ten games, failed to win a match and scored only three goals, two of which came in the 3-2 defeat away to Serbia.
There was certainly a noticeable change in the quality of performance over the next ten games, which included three excellent outings against Portugal, home and away, and at home to Serbia.
Comprehensive away wins in Azerbaijan and Luxembourg added to the momentum that was building before a 2-2 friendly draw with Belgium also brought belief and confidence to the group.
The Nations League was targeted by the manager in 2022 with the stated intention to top a group including decent sides Ukraine and Scotland, however, it was back to the drawing board as Ireland were caught cold in the summer heat of Yerevan as they suffered a humiliating 1-0 defeat to Armenia.
Kenny clawed back a modicum of respectability by the end of the failed campaign with a strong home win against Scotland and a decent away performance against Ukraine.
But then came the double whammy Euro 2024 draw as Ireland were paired with France and Holland, before Greece really twisted the knife with home and away wins against Kenny's side.
And the manager acknowledged that it would probably be those two games that would come back to haunt him, knowing that strong results against Gus Poyet side would have shone a brighter light on the failed campaign.
But now, as a result of that poor Nations League campaign, the back-door option of the Euro play-off has also been slammed shut, leaving Kenny on the brink going into Tuesday's game against New Zealand.
The manager stated over the past few weeks that he was not about to beg for his job, but he was hoping for an element of revisionism when it comes to analysing his record in the roll, as he maintained that the first ten games should not even count in the overall appraisal, as a result of the Covid effect.
"'People go on about my record, but to be honest with you, I don't think the first ten games – or the first part of it with Covid – I don't think it's fair at all that that is referred to overall in my record.
"I said that before and it wasn't well received. But so many players, different rules for in Ireland and the rest of Europe in relation to close contacts and the two-metre rule.
"One window with 12 players missing and not many of them had Covid, and that was without injuries, it was just from the Covid side of it.
"From then on, I feel like I'm trying to justify it, but from then on to tonight, since our first win, we had 11 wins, 11 defeats and six draws and played a lot of the top nations.
"But obviously we're disappointed with the lack of points and the games against Greece, of course I am. I'm disappointed with that and take responsibility for that."
So looking ahead to Tuesday's match, and while the manager admitted that it was quite possible that his time was up, he said that he has no complaints with the way that the FAI have handled the uncertainty regarding his future.
Kenny should know what the future holds before the end of the month, but in the meantime, he is just looking to end the year, and perhaps his tenure, with a strong performance at the Aviva Stadium on Tuesday night.
"I have no complaints in that regard," said Kenny, when asked could the FAI have handled it better.
"For me, it was about trying to win tonight. We wanted to try and do that. It was a full house tonight and a special occasion with Holland trying to qualify for the Euros.
"We wanted to put in a strong performance and try get that big, big win and the players gave everything and did a lot of really good things and played really well at times, but Holland showed their quality.
"I have to prepare for Tuesday now. We have one or two knocks tonight and we have to see how people are."