Line of duty: how assistant referees cope in the angry world of football
We all have off days at work, when things don't go our way or we make a mistake we can't fix. Imagine having one of those days in front of hundreds or thousands of people. Think about how it would feel to make a mistake and then go home and watch yourself making that same error again on television.
Whatever your opinion on referees and their assistants, it's a difficult job. I wanted to find out what it is like to be a match official, so I took a break from shouting at them from the stands and spoke to one. Calum Spence is one of Scotland's top assistant referees, having worked his way up from officiating children's matches when he was a teenager, to running the line in a cup final.
Hampden was not in Spence's mind when he first picked up a whistle; he just wanted to quit his paper round. "I played juvenile football until I was 16 and then the team that I played for folded. I was looking for another team, but was also at an age where I was looking for something else to do. Someone had made me aware of the referee's course and I thought that if I could make money from going along to football every weekend then I could give up my paper round. So it was basically just a replacement for my paper round initially. I had absolutely no idea what I was getting into or where it might lead.
"I started out doing juvenile matches for under-13s and working my way up to the older age groups. I moved on to the amateurs and eventually started refereeing in the Highland League, and when you're there you get to run the line at Football League matches."
After gaining experience in both roles, Spence decided running the line was where his strengths lay, rather than being the man in the middle. "Being an assistant referee is a totally separate specialism to being a referee and I realised after a few years that I was better at running the line. I worked my way up the leagues and in 2017 I did my first Premiership match. My expectations when I started were no more than looking at it as a part-time job but once I got started, I realised I could try to move up level by level."
As fans, we know the pre-match routines of players. Match officials have a similar run-up to kick-off, although new technology has added a new layer to their preparations. "The first thing to do pre-match is to have a comms check with the VAR centre. We take the kit out on to the pitch and have a walk around, making sure that all lines of communication are working. We then go back inside and prepare for the match, which will include a pre-match brief between the officiating team.
"We'll talk about how we are going to approach the game and we speak to security and police who come in and talk about any potential risks there might be on the day. From there, our pre-match is probably much like the players'. We'll have a chat and a catch-up as it tends to be the only time we are together."
Do officials talk about individual players and managers – and does this conversation change depending on the teams involved? "Where the players would maybe discuss tactics before going out, we do similar, but it's more about areas of responsibility. The referee leads the team, so they lead the conversation about what their expectations are and when and how they want us to contribute. Although we are all generally comfortable with what our role is, some referees like to do certain things differently. We're in constant conversation throughout the game, so things like that are made far easier."
We've all criticised officials at games, to a greater or lesser extent, and he is closest to the shouts from the stands, so how does Calum cope with the abuse? "It was harder in the beginning," he says. "I was just a teenager and getting abuse from grown adults at public parks when doing the game on your own can be intimidating. The referees at grassroots level have the toughest job in that regard because they are on their own. At the higher levels there is a more protective atmosphere.
"At the very biggest grounds in the top flight it's difficult to pick out what individuals are saying in the stand as it's just like a wall of noise. It doesn't bother me now, but it was quite hard to go through that as a teenage referee, having grown adults screaming at me."
Although there is increased security around top-level games, things can still get out of hand. "It was September 2018, Livingston against Rangers," he says. "I had just given a goal kick and was running back up towards the halfway line when I felt something hit me in the back of the head. When I put my hand to the back of my head, I realised it was bleeding. That's the only time I've experienced any kind of physical assault like that. The verbal abuse and shouting from fans are part of football and I don't see that changing any time soon, so we just get on with it. I think it crosses the line when things become physical in any way though."
Match officials in Scotland are not fully professional so most have day jobs away from the game. Calum works as a police officer, a role that complements his matchday duties and vice-versa. "Both jobs have transferable skills. Both require you to make quick decisions in high-pressure situations. That is the main element in both jobs – being able to keep a cool head in those kinds of environments. Dealing with confrontation is another, as most people don't have to deal with people coming at you aggressively or having a go at you and both roles harden you to that. I've been in football for 15 years and the police for 10. Both jobs help the other."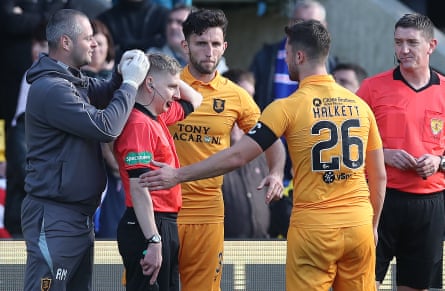 Just as players want to play at the highest level, so do officials. "I've had two Old Firm games now, albeit one of those was behind closed doors during lockdown. As far as unique experiences go, that was certainly a different atmosphere. I ran the line at the Scottish League Cup final last year too. A national final is something we all strive for, so it was great to do that. In Europe it's great to be involved in games with big clubs like Roma. It's a great privilege to see top players at clubs like that up close when running the line. But once the game gets going, it's just red on blue and you don't see the teams involved."
Bigger games usually come with more scrutiny over "wrong" decisions. A criticism that is often levelled at officials is that there is no accountability when they make a mistake, but that is not the case. "Most people believe there is no accountability and that it doesn't have any effect on an official if they get something wrong. On a personal level, I know I go straight home to watch the game back and see if I've been right or not and to see how I may have come to a wrong decision.
"We get observed at every game by both a referee and an assistant referee observer, who analyses all our decisions. In the same way that a striker's place in the team comes under threat if they keep missing chances, we know our future games may be impacted if we keep making mistakes. People maybe expect one bad decision to result in some sort of demotion but, as with players, a good referee doesn't become a bad one on the back of one bad decision or performance.
"We feel scrutiny and pressure to get the big decisions right, but that's part of the game at the top level and I try to use that pressure to be ready for the crucial moments in games. We all feel that scrutiny and we are under pressure not to get anything wrong. I know fans are just shouting at the badge, or in the police they shout at the uniform, but behind the uniform or badge is a human being and in Scotland the officials all have other jobs that they need to go back to. We all have family and friends that see or hear the criticism too."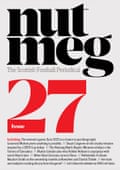 Calum still has ambitions in the game, one being to help attract others to the role. "I want to officiate at the biggest games. I'd like to officiate in the Champions League as I've not done that yet. The pinnacle for any official would be to work at an international tournament. It takes years of hard work to get selected for a World Cup or the Euros but I think that is the top for an official. I know there is a problem in terms of getting people to sign up for the courses. You can do the course online now at your own convenience. It's a good way to keep fit, get a bit of extra money, meet new people and be involved in football."