Medvedev ends Djokovic run to book Dubai final with Rublev | Tennis News – Times of India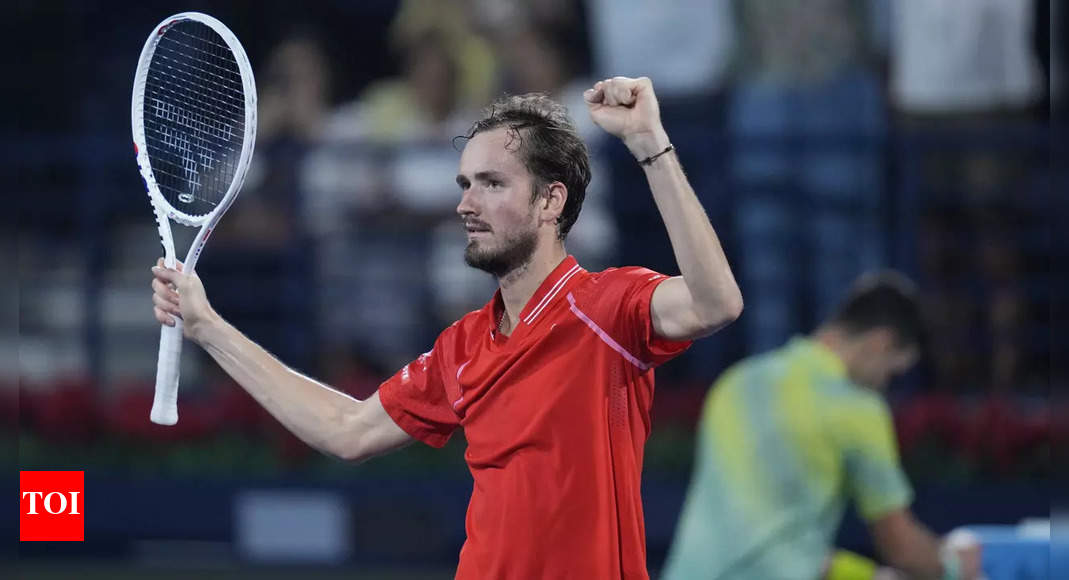 Daniil Medvedev handed Novak Djokovic his first defeat of the year, beating the world number one 6-4 6-4 on Friday to reach the Dubai Tennis Championships final where he plays holder Andrey Rublev for a third title in as many weeks.
In a contest where the players put their early season win streaks on the line, it was Rotterdam and Doha champion Medvedev who drew first blood by breaking an error-prone Djokovic twice and closed out the first set with a searing forehand.
Playing in his first tournament since winning the Adelaide and Australian Open titles, Djokovic has hardly put a foot wrong barring a small scare in his opener against Tomas Machac.
The 35-year-old had his moments and looked the better player after going down 2-5 in the opening set but he dropped his serve again early in the second after hitting a return long.
It was the opening Medvedev could have only dreamed of in his bid to claim a fifth win over Djokovic in 14 matches and the Russian pounced for a 4-2 lead after some high-octane tennis.
Former U.S. Open champion Medvedev peeled away further with an ace for a crucial hold and sealed a 13th straight win in his next service game.
Earlier, Russian Rublev reached the title clash with a first career victory against Alexander Zverev, closing out a 6-3 7-6(9) win on his sixth matchpoint.
"I was thinking it was going to be a third set," Rublev, who will be gunning for his 13th ATP title on Saturday, said. "I was preparing mentally for it but I somehow saved a set point."
It was Zverev's first semi-final since he injured his ankle at Roland Garros and had surgery and the German showed glimpses of the form that took him to number two in the world last year.
But a determined Rublev recovered from a dip in his level to ensure there was no late drama.
"I had a couple of matchpoints but he played well. At 9-9 I made a good return and said 'OK, let's try to make it here'. I won a crazy rally and was lucky," he said.