NBA Odds, Best Bets | Expert Picks for Warriors v Grizzlies, Knicks v Kings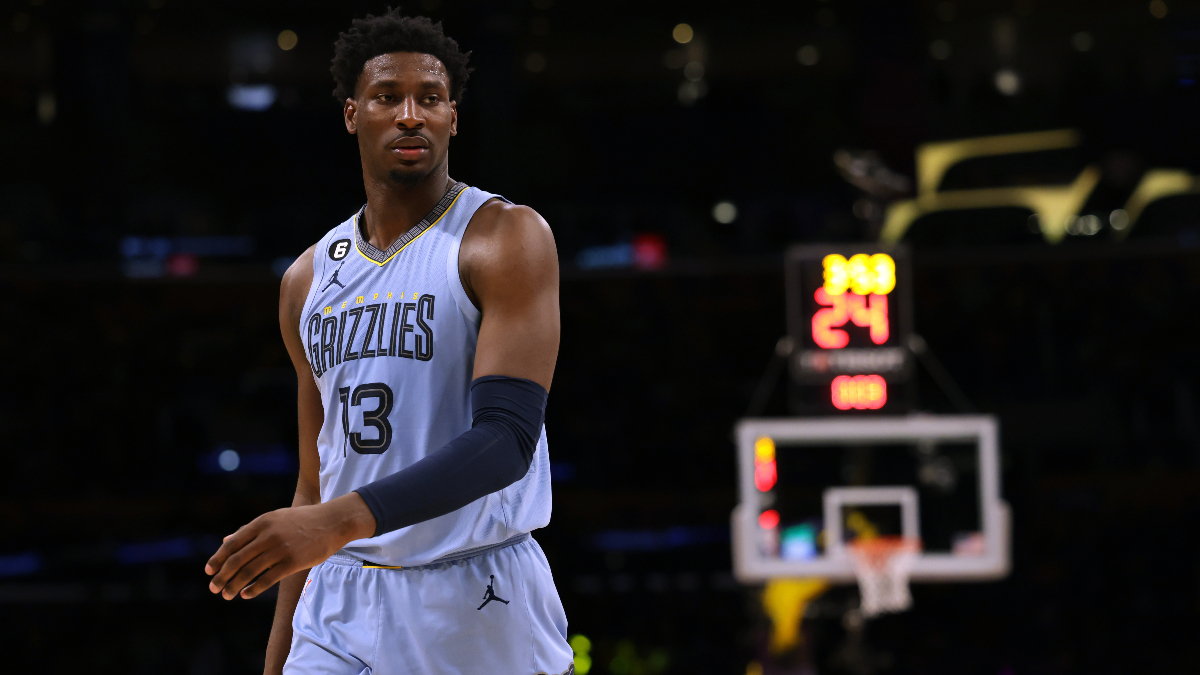 The NBA regular season continues on Thursday evening with just under 20 games remaining for every team. Thursday night features a six-game slate, including two nationally televised games on TNT. Our NBA betting experts have picks for both of those nationally televised games along with another play as well. Find their best bets and analysis below.
NBA Odds & Picks
Warriors vs. Grizzlies Spread
| | |
| --- | --- |
| Pick | Grizzlies +2.5 |
| Book | FanDuel |
| Tipoff | 7:30 p.m. ET |
| TV | TNT |
Jacob McKenna: Memphis has hit a dreaded rough patch at probably the worst time, but I like the Grizzlies as home underdogs in this one.
Golden State's defense has tanked with Curry back in the lineup. Those defensive struggles aren't new though, as evidenced by Golden State ranking 28th in Road Defensive Rating (119.0).
With Andrew Wiggins and Gary Payton also out, Memphis will likely be able to generate offense, even without Morant.
Additionally, the Warriors are just 8-23 against the spread as the road team this season, per TeamRankings. Even a shorthanded Grizzlies team can take advantage of this weak defense.

What is QuickSlip?

QuickSlip is an Action Network feature that allows users to automatically pre-load their bet slip at FanDuel Sportsbook.
---
---
» Return to the table of contents «
---
Warriors vs. Grizzlies Spread
| | |
| --- | --- |
| Pick | Warriors -2 |
| Book | FanDuel |
| Tipoff | 7:30 p.m. ET |
| TV | TNT |
Chris Baker: Ja Morant has been in the headlines for his off-the-court shenanigans/suspension, but the Grizzlies have lost a number of key bigs as well. Both Steven Adams and Brandon Clarke are out with injuries for this one. Adams has been the second-most impactful player on the Grizzlies by On/Off Rating (+8.7), and Clarke is an elite defender who can switch almost every screen. Adams has been an underrated loss for this team as he leads the NBA in Screen Assists and Offensive Rebound Rate.
His impact is remarkably underrated, and his presence is especially valuable against this Golden State team that likes to go small. With Morant and Adams on the floor the Grizzlies have a +8.0 Net Rating, ranking above the 85th percentile in both Offensive Rating (118.7) and Defensive Rating (110.0). With those two guys off the court, the Grizzlies have a negative Net Rating of -2.7, scoring just 110.3 per 100 possessions and giving up 113.0. This is an entirely different team without these two, and I expect the Warriors to capitalize against this undermanned Grizzlies squad.
The Warriors have struggled since Stephen Curry's return to the lineup as they have lost two straight games to the Lakers and Thunder. I wouldn't read too much into this and expect them to get right here in Memphis as this is a great matchup for their offense. The Warriors rank first in 3-point Attempt Rate and in Non-corner 3-point Attempt Rate while this Grizzlies defense ranks 29th in Non-corner 3-point Attempt Rate and 23rd in 3-point Attempt Rate Allowed.
This edge has exhibited itself in both of their games versus the Grizzlies as they shot above 42% from three in each of those matchups. Golden State also forced the Grizzlies into a ton of mid-range looks while limiting the 3 in each of those games.
I love the process Golden State has exhibited against this Grizzlies team, and I view them as the more complete team with all of the injuries to the Grizzlies right now. There is something to be said for getting the NBA champions at -2 in a playoff-type environment as we should expect the Warriors to be motivated for this one coming off of two losses and facing a Grizzlies team that they clearly don't like. Trust the trio of Klay Thompson, Draymond Green, and Curry to come out with urgency and cover this short number on the road. Play this up to -3.

---
» Return to the table of contents «
---
Warriors vs. Grizzlies Spread
| | |
| --- | --- |
| Pick | Grizzlies +2.5 |
| Book | FanDuel |
| Tipoff | 7:30 p.m. ET |
| TV | TNT |
Andrew O'Connor-Watts: Both the Warriors and the Grizzlies have been terrible road teams this season, but only one of them will play away from the comfort of their home tonight, and that's the Golden State Warriors. I keep expecting them to go on an epic run, which includes a string of important road victories, but that hasn't happened.
Even Steph Curry's return from injury couldn't spark them to a road win against the Lakers on Sunday, and they lost in convincing fashion to the Thunder on Tuesday. If you're a regular Action Network reader/listener, you probably know how profitable it's been to fade teams in their first game after playing the Thunder this season.
The Warriors are also one of the worst teams as a road favorite this season. They're just 2-15 straight up and 4-11 ATS, according to Statmuse. In a small sample size, the Grizzlies are 1-1 straight up and 2-0 ATS as home dogs.
Even if I downgrade the Grizzlies a generous five points on the spread for injuries and suspensions to Steven Adams, Brandon Clarke and Ja Morant, my model still has the Grizzlies as significant favorites.
I took the Grizzlies at +2.5 and at +120 on the moneyline, and I like them at any underdog number.

What is QuickSlip?

QuickSlip is an Action Network feature that allows users to automatically pre-load their bet slip at FanDuel Sportsbook. 
---
» Return to the table of contents «
---
Nets vs. Bucks 1Q Spread
| | |
| --- | --- |
| Pick | Bucks 1Q -4 |
| Book | PointsBet |
| Tipoff | 8:10 p.m. ET |
| TV | NBA League Pass |
Andrew O'Connor-Watts: The Bucks are one of the best first-quarter teams in the league, and the Nets struggle in the first frame, which is why I bet the Bucks 1Q at -2.5 despite the -130 juice. I would take the first-quarter line down to -3.5 at -115 or better.
There are a few trends that point to the Bucks in the first half as well, but -7.5 is a bit too long for my liking. I'd strongly consider laying seven as I think it's a good spot for Milwaukee. However, both teams are off big wins, and that bodes well for a first-half cover as Brooklyn tends to let its foot off the gas after big wins, while Milwaukee tends to keep their momentum going into the next half.
Here's a look at Milwaukee's first-half record since the bubble season after a 10+ point win:
This season they're 15-7 ATS (28.6% ROI).
Similarly, fading the Nets on the road in the first half off a 10+ point win has also been a profitable spot going back the past three seasons, although the sample size is a bit smaller:
This season is still profitable at 7-5 ATS.
I think the risk here is a backdoor cover by the Nets who don't seem to roll over easily, as evidence by their game against Boston. The full-game number is too long for my liking, so I'll stick with the Bucks in the first quarter, but I wouldn't blame you for following the trends and laying a first half number as well.
---
» Return to the table of contents «
---
Knicks vs. Kings 1Q Moneyline
| | |
| --- | --- |
| Pick | Knicks 1Q ML +100 |
| Book | FanDuel |
| Tipoff | 10 p.m. ET |
| TV | TNT |
Jim Turvey: The Knicks are 38-28-1 in the first quarter this season, which is good for a 9.4% ROI that ranks fifth in the Association this season. The Kings sit on the other end of that spectrum, at 28-35-1, with a negative 15.2% ROI that ranks fourth-worst.
Even if Brunson remains out, that mostly hurts the Knicks' second unit, where Miles McBride is a far cry from Immanuel Quickley, who has moved into the starting role with Brunson out and hasn't missed a beat.
If Brunson isn't playing and the Knicks take a five or so point lead after the first quarter, I will also potentially be looking to live bet the Kings to come back and win if bettors can get +115 or around there, so keep an eye in the Action app (@TurveyBets).

---
---
» Return to the table of contents «
---
Knicks vs. Kings 1Q Moneyline
| | |
| --- | --- |
| Pick | Knicks 1Q ML +100 |
| Book | FanDuel |
| Tipoff | 10 p.m. ET |
| TV | TNT |
Joe Dellera: The Knicks kick off their West Coast road trip today in Sacramento against the Kings. While these teams have both been incredible this season, especially of late, the Knicks have a discernible edge to start the game.
Even though Jalen Brunson may miss the game, the Knicks have struck lightning in a bottle with Immanuel Quickley stepping into the starting lineup to fill in for Brunson as he continues to bolster his case for Sixth Man of the Year.
On the season, the Knicks have a better adjusted Net Rating +3.1 (compared to +1.9 for the Kings), and the Knicks are even better to start the game. The Knicks are 38-28-1 ATS in the First Quarter while the Kings are 28-35-1. The Knicks have a full season Net Rating of 7.4 in the first 12 minutes while the Kings are at -1.4, and this is an even more dramatic split since February 1st. The Knicks are +15.9 in the 1st compared to the Kings at -5.3.
These splits are not only significant, but they are meaningful. Since February 1st, the Knicks play their starters on average 9.58 minutes each (Brunson and Randle are at 11.2 and 11.1 minutes, respectively) compared to the Kings who play their starters 8.1 minutes each (Sabonis and Fox are only at 9.5 and 8.1 minutes). This will give the Knicks more minutes with their starters against the Kings' weaker bench unit.
I like the Knicks on the full game too, but their edge in the 1st Quarter is too significant to pass up.
---
---
» Return to the table of contents «
---