Phil Mickelson drops to a depressingly low standing in the Official World Golf Ranking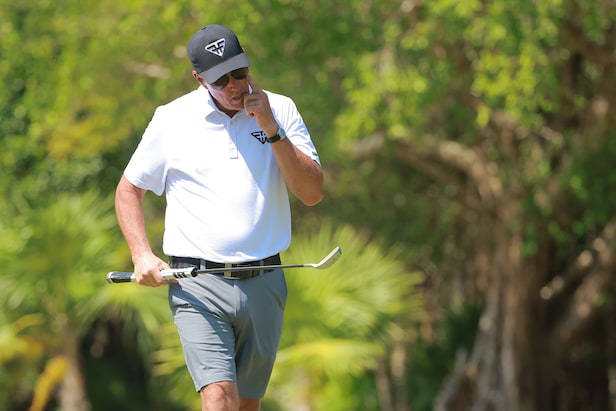 Phil Mickelson has accomplished just about all there is to accomplish in professional golf save for two things: 1. Winning a U.S. Open, 2. Being the No. 1 ranked golfer in the world. The former, while seemingly a pipedream at this point, is still attainable. The latter? Not so much.
Not only is Mickelson getting up there in age (he will turn 53 in June), but the LIV Tour's events do not feature any Official World Golf Ranking points, meaning Mickelson would have to win the Masters and likely another major or two this year to truly improve is OWGR standing. And even then, the No. 1 spot might be out of his reach.  
That's because Mickelson, who was actually still inside the top 40 this time last year, has dropped to a depressingly low standing that makes you wonder if he'll ever sniff the top 100 again. He's currently the No. 318th-ranked golfer in the world, a spot he's not been in in … wait for it … more than three decades. Tip of the cap to the AP's Doug Ferguson for pointing this out this past Sunday evening:
The "Tuscon" Ferguson is referring to is the Northern Telecom Open, Lefty's first of 45 career PGA Tour victories. The win came in January of 1991, Mickelson still an amateur at the time. 
Prior to his maiden victory, Mickelson was ranked 462nd in the world, and the win jumped him all the way to 164th. In the 30 years since, Mickelson never dropped outside of the top 300. In 1993, after picking up his third career win and his second that season at The International, he climbed to World No. 65 and remained inside the top 70 all the way up until January of 2020. 
Even after dropping outside the top 100 the following year, he vaulted back into the top 40 with his PGA Championship win at Kiawah Island. It's been a rather steady decline since, with Mickelson failing to post a single top 10 in 16 starts worldwide since. Even on the LIV Tour, Mickelson had just one top 10 in seven starts in 2022. This combination of poor form and his current circumstances has sent him to depths none of us could have imagined after that incredible PGA Championship win less than two years ago.