Rob McElhenney starts bidding war in charity auction for Princess Diana Eagles jacket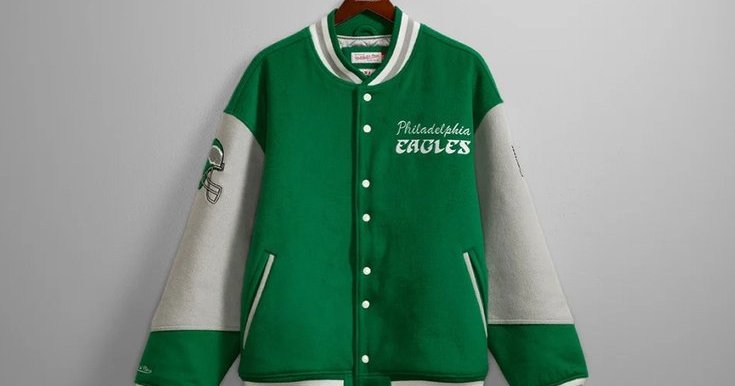 Rob McElhenney will not be denied a Princess Diana Eagles jacket. The actor, Welsh soccer club owner and devout Eagles fan is driving up the price for a kelly green jacket autographed by Kylie Kelce, wife of Eagles center Jason Kelce, that's being auctioned for charity.
During the last week, the star and co-creator of "It's Always Sunny in Philadelphia" has placed bids — at least a few times — on the Mitchell & Ness-made jacket inspired by the one Princess Diana famously wore on the cover of People magazine in 1994. On Monday afternoon, according to a social media post by McElhenney, he had regained the top bid, offering $62,000, a nice, sturdy figure matching Jason Kelce's jersey No. 62.
---
MORE: McGillin's opens new pop-up, selling bar's merch to holiday shoppers

---
The Mitchell & Ness jackets went on sale to the public for $400 earlier this month, and the entire supply sold out almost immediately. Proceeds from its sale of the Kylie Kelce-signed garment benefit the Eagles Autism Foundation.
McElhenney previously had bid $35,000 after being outbid on his earlier offer of $10,050. His interest in the auction got a mention from Jason and Travis Kelce during last week's episode of their "New Heights" podcast.
On Monday, McElhenney revealed he was notified he had been outbid again by someone willing to pay $50,000. 
About 2 1/2 hours later, the actor was back in the lead, and as of 6 p.m. Monday, McElhenney remained the top bidder.
It sounds like McElhenney is ready to break the bank in a bidding war until the auction closes on Black Friday. The Eagles Autism Foundation's auction site notes the jacket is one of two signed by Kylie Kelce with "Go Birds" written along the bottom waistband. The auction listing does not reveal team's plan for the second jacket. 
The story behind the original jacket has been a subject of legend and myth in the years since Princess Diana's life was cut short by a 1997 car crash in Paris.
Last month, before the Eagles reintroduced their kelly green throwback uniforms, "NFL Countdown" ran a segment about the lore behind the jacket. The story goes that former Eagles statistician Jack Edelstein met the late Princess Diana in 1982 at the funeral for Grace Kelly, the Philadelphia-born movie star and Princess of Monaco who also was killed in a car crash.
While speaking to Princess Diana at the funeral, Edelstein learned that she loved the colors silver and green. He later convinced then-Eagles owner Leonard Tose to make a custom Eagles jacket for the princess, who knew nothing about the NFL. She was photographed wearing the jacket in 1991 while she dropped her sons William and Harry off at London's Wetherby School. It appeared again in a 1994 photo when Diana took her boys to a theme park in Staffordshire, England.
As it turns out, this version of events may have been embellished. There's evidence that Princess Diana purchased the jacket in England rather than receiving it as a gift from the Eagles. 
Defector's Dan McQuade dug through old Philadelphia Daily News archives from the early 1990s to see what had been written about Diana's appearances in the jacket, which created buzz locally with people wondering why she was wearing it. Barbara Beck, a former Daily News reporter told McQuade (and also wrote at the time) that the consensus among royalty experts was that Princess Diana bought the coat in London, and it had not been sent to her from the team. She simply liked it as a fashion statement, not because she was an Eagles fan. 
Supporting that theory, McQuade also tracked down an article from Scotland's Daily Record published Jan. 26, 1991, that reported Princess Diana — or someone close to her — had bought the Eagles jacket from the luxury department store Harrods. The jacket and ones for other NFL teams, including the Raiders, had become trendy in England around that time. Original versions of the Eagles jacket are still floating around, including one that was acquired from London earlier this year by local vintage clothing dealer Rare Vntg. The whereabouts of the jacket owned by Princess Diana are unknown.
---
NOTE: Portions of this article were edited after it was originally published.