Rory McIlroy calls no-show by critic James Hahn a 'slap in the face'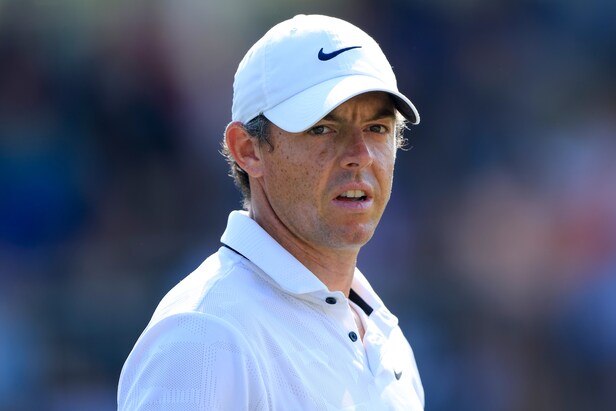 While Rory McIlroy didn't address his critics directly during his news conference Tuesday at the Players Championship, he wasted little time afterward when asked about it by two reporters.
When news broke last week of the PGA Tour moving to a Designated Event Model for 2024, where top players will play against each other more often in no-cut events, no one was more vocal than James Hahn, a two-time PGA Tour winner who is now ranked No. 305 in the Official World Golf Ranking.
Speaking to Golfweek, Hahn said of the changes: "I hate them. I'm gonna say exactly what 99.99 percent of fans said about players leaving for the LIV Tour. If our players just said, 'We're doing this for the money,' I would have a lot more respect for them. But how they're covering up what they're doing and trying to make it a thing about sponsors and fans and saving opposite-field events. I think that's all BS.
"Right now, they're just covering their ass and saying everything that the PGA Tour basically has trained them to say, have taught them to say and try to make it not about money when everyone knows 100 percent it's about more guaranteed money being funneled to the top players in the world. We've been talking about money for the last two years and for them not to say that that's not the No. 1 reason why they're making these changes—it's very, very hypocritical."
McIlroy didn't have a problem with Hahn voicing his opinion as much as he did with Hahn not showing up Tuesday morning at TPC Sawgrass for a player meeting that lasted 90 minutes.
"Like, you say all this s— and you're not even in the meeting? If you want to get informed and be a part of the process—the fact that he wasn't even in the room was a slap in the face to everyone there," McIlroy told reporters immediately after his news conference.
Hahn, 41, hasn't won since the 2016 Wells Fargo Championship. His best finish in the past year was a fourth-place tie at the 3M Open, but he has missed 13 cuts since last year's Players Championship. He qualified for the Players this year because he finished 113th in the FedEx Cup standings in 2022.
McIlroy, 33, finished a shot behind leader Kurt Kitayama last week at the Arnold Palmer Invitational. He's ranked No. 3 in the world and has a chance to become No. 1 with a victory this week.