'Scotland go merrily from purgatory to paradise'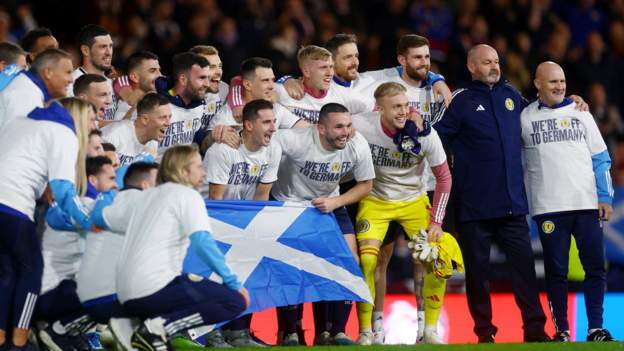 In Norwegian folklore they stand as the nation's great hoodoos, the unexplained phenomena that put the heart sideways in those who have encountered them.
The Bloody Monk of Trondheim. The Bitter Bride of Stavangar. The Hanged Man of Finnskogen.
Back in June, when Scotland turned a near-certain 1-0 defeat into the most ridiculous 2-1 victory the country has known in an age, the locals might have been minded to add the Insufferable Footballers of Scotland to the list.
Norway had a touch of revenge on Sunday when Mohamed Elyounoussi, knocked in an equaliser that turned what looked like a probable defeat into an admirable draw but it was revenge served hot rather than cold.
It meant nothing to them because they were already unable to finish in the automatic qualification spots and it meant little to Hampden either.
Baccara got another blast. On came the disco lights. The Scotland players donned their 'We're Off To Germany' t-shirts and the lap of honour rolled on.
It was a self-conscious thing, that march around the old place. The players, naturally, looked chuffed, but the celebrations weren't wild, the party wasn't exactly riotous.
Sunday was a touch surreal. "A strange atmosphere" as John McGinn described it. "A bit weird" said Steve Clarke. And they were right.
The Tartan Army knows how it normally is on days like this, the last home game of a major championship qualifying group.
It's usually an exercise in salvaging some pride after a failed campaign, a flat occasion, a search for a desperate sign of life ahead of the next campaign. The endless search for hope in a swamp of dejection. No more.
So what do you do when the battle has already been won? The fact that Scotland had their work done months ago made Hampden a curious place.
Nobody remembers it being like this before because it's never been this way. After so many letdowns it takes a lot to stop looking suspiciously at success. Is this real? Will it last?
Scotland fans are ploughing on merrily down the road from purgatory to paradise. Not there yet but, boy, are they enjoying the journey.
Clarke can find answers to big questions
It's now five without a win and that's not a stat that Clarke will hide away from. The head coach did his best to look glum at a victory slipping the fingers but there was a suggestion of a smile there all the same.
Yes, this was sloppy. Yes, the goals conceded were soft touches. It would be worrying if all of the country's A-list defenders were on display and showed the kind of vulnerability Scotland's defence showed here but, of course, they weren't.
Jacob Brown had his chance but didn't take it. There were so many happy faces at Hampden but the Luton striker, having missed an easy chance, will be sweating on a place in the squad for Germany.
Lawrence Shankland was given mere minutes again, which was odd. There will be understandable complaints about that, but second-guessing Clarke's mind is a mug's game. The man knows what he wants. That big footballing brain of his has taken Scotland this far and you have to conclude that he knows what he's on about.
There aren't many big calls he will have to make in the composition of his 23 for the Euros but that last place up front is one of them.
In the public consciousness, Shankland is ahead of Brown. A natural goalscorer versus a keen runner, the type that Clarke already has two of in Che Adams and Lyndon Dykes. Shankland is different.
A straw poll of the football public would surely see the Hearts man win that contest in a landslide. But getting an from Clarke is like breaking into Fort Knox with flashing lights on your head.
He sees the questions coming. You've got no chance. Lord knows why he went into football management. He'd have made a fortune on the poker circuit. Scotland's answer to Amarillo Slim.
Clarke called Brown an "honest boy who runs around." On the face of it, that didn't sound great, but Clarke is a manager who keeps faith and, right now, he has more faith in Brown to do the job he wants his sole striker to do.
Scotland can be better than they were against Norway and, when the heavies return in the summer, you suspect they will be better.
Andy Robertson, Kieran Tierney and Aaron Hickey will always be missed. They were missed against Georgia and missed again on Sunday, but they were there for long enough in this campaign, a thunderous step forward, a dramatic journey featuring so many good things, so many wow moments.
It was a campaign that ratcheted up the feelgood between the nation and the national team. It marked the return of confidence and belief, entertainment and joy.
And hilarity. Rodri's tears at Hampden. Odegaard's anguish in Oslo. Khvicha Kvaratskhelia's fury in Tbilisi. The game in the rain in Glasgow. Weegies with Squeegees.
In the mind's eye, as the skies emptied over Hampden that day against Georgia, the image of those folk brushing the sodden pitch as if their lives depended on it remains.
At one point, when the chances of the game being abandoned shortened dramatically, somebody ran on with a leaf blower and directed the thing at the turf as if it was a magic weapon.
The campaign ended with a 3-3 draw. Fun to the last kick.
Clarke says he's going away to have a rest, which he richly deserves. With his feet up you can still picture him with a pen and a pad with names written in it, many highlighted as certainties, some with a question mark, others with a line drawn through the middle.
Away to the side there might be another section. Call them the possibles. Not Anthony Gordon or Tino Livramento, who qualify for Scotland but have eyes for England. But Harvey Barnes? Ben Doak?
Ryan Fraser is not what you would call flavour of the year with the manager but he has two goals in his last five games for Southampton in the English Championship, both of them winners.
Maybe Clarke's imagination won't stretch that far – there are issues, you might say – but now is a time for dreaming. Some might call it fantasy, but this is Scotland's new reality.
The draw for the party in Germany is on 2 December. Count the days.