Scotland keen to take workers from Bangladesh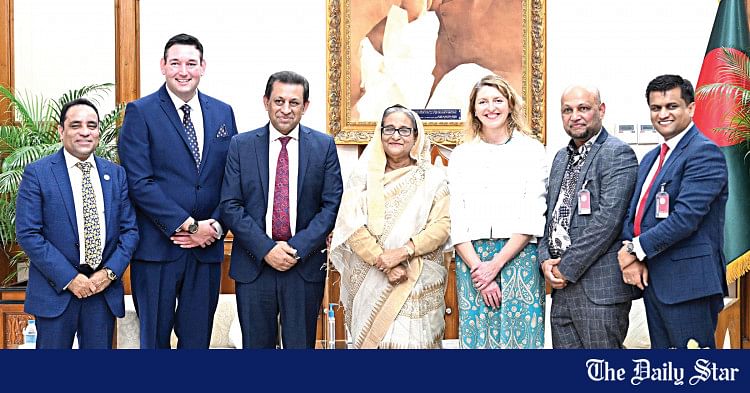 A six-member Cross-Party Parliamentary Group of Scotland called on Prime Minister Sheikh Hasina at Gono Bhaban yesterday. Photo: PID
">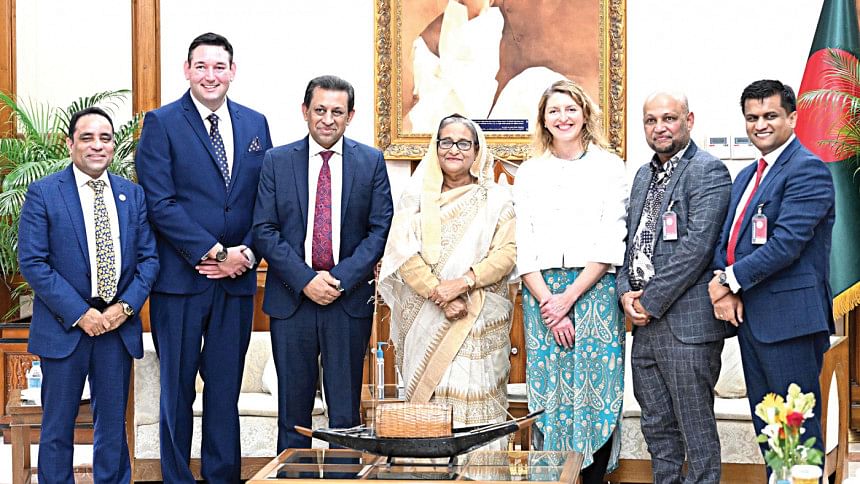 A six-member Cross-Party Parliamentary Group of Scotland called on Prime Minister Sheikh Hasina at Gono Bhaban yesterday. Photo: PID
Scotland yesterday expressed desire to take construction workers from Bangladesh as a six-member Cross-Party Parliamentary Group of the country called on Prime Minister Sheikh Hasina at Gono Bhaban.
First ever Bangladeshi origin MP of Scotland Parliament Foysol Choudhury led the delegation at the meeting with the premier, said PM's Press Secretary Ihsanul Karim at a media briefing.
The other members of the delegation were Miles Briggs, Evelyn Tweed, Juned Hussain Chowdhury, Farhan Masud Khan and Md Lutfur Rahman.
The Scottish parliamentarians, however, said language inefficiency is the barrier in taking construction workers from Bangladesh.
Hasina said her government has taken various measures through different institutions to teach language and provide vocational and computer trainings to enhance efficiency of the workers.
Foysol Choudhury said Scotland is also keen to invest in the agricultural sector.
They also mentioned that Bangladeshi diaspora is involved in mainstream politics of Scotland and currently, there are some 200 Bangladeshis who were elected councillors.
Meanwhile, Hasina yesterday stressed the need for cooperation among Bangladesh, Nepal and Maldives to flourish tourism.
She made the remarks while outgoing Maldives High Commissioner to Bangladesh Shiruzimath Sameer called on her at Gono Bhaban.
PM's Press Secretary Ihsanul Karim briefed media afterwards.
The premier also conveyed her regards to newly-elected Maldives President Mohamed Muizzu.
The envoy said Bangladesh has huge potential in tourism, particularly in Cox's Bazar, which has the world's longest sandy beach.
Hasina said many Bangladeshi workers have been working in the Maldives. "They are contributing to both countries' economy," she said.
The Maldives envoy thanked the prime minister for her government's all-out support to discharge her duties during her tenure. "Maldives and Bangladesh relations have reached a new height during her tenure," she said.