"They Blaming Everyone But Ja Morant": Baffled NFL Legend Sends NBA World Into a Frenzy With "My Fault" Comment – EssentiallySports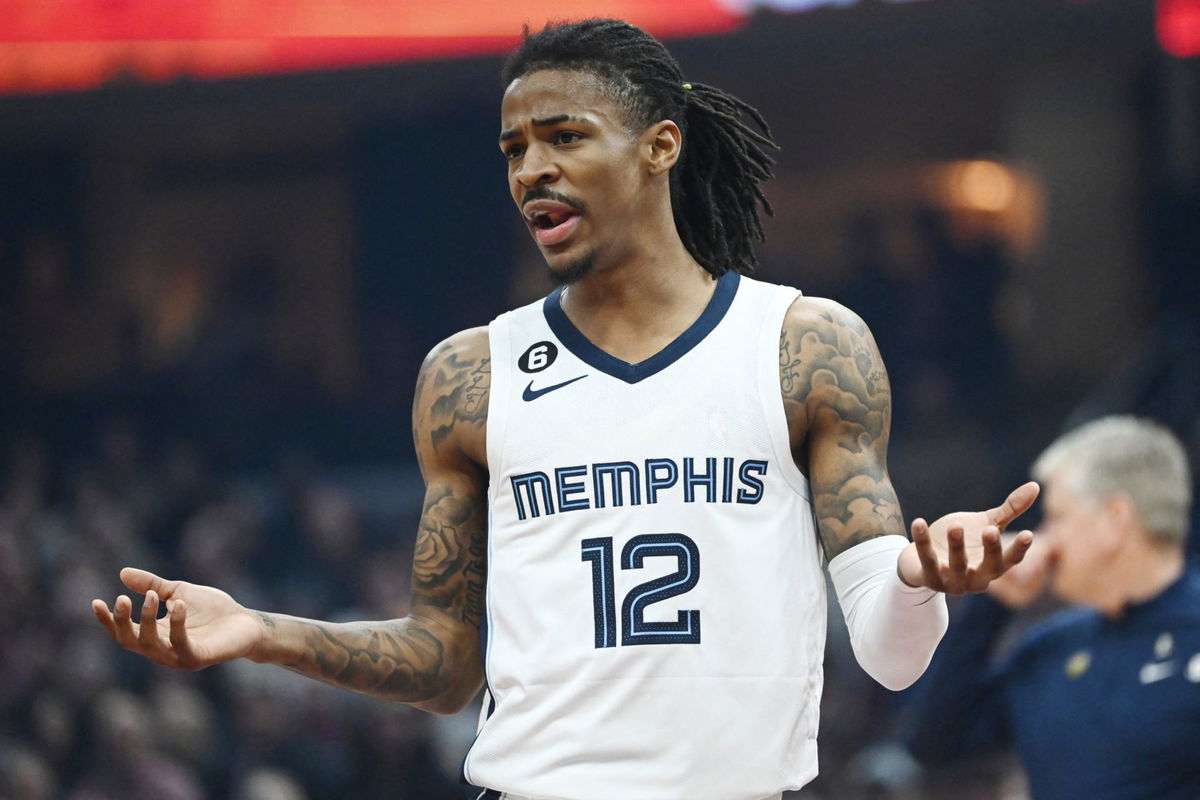 NBA stars often attract public attention with their off-court escapades. All eyes are now on the Memphis Grizzlies guard Ja Morant as he displayed a gun on his Instagram Live, handling it at a nightclub. On the back of his conduct, the Memphis Grizzlies has suspended Ja Morant from the next two games. The NBA has also decided to investigate the matter. Now, aggravating the situation for fans, an NFL legend has come up with some remarks on the whole scene.
Fans are often awestruck when some NBA player pulls off some antic outside the court. Ja Morant's conduct has turned out to be something worth going gaga over. If something could just spice up the atmosphere further, it would be a remark from a star from another sport – that is precisely what happened as NFL legend Shannon Sharpe took the issue to his social media, taking NBA fans on a spin.
Shannon Sharpe can't take blame for the conduct of Ja Morant
ADVERTISEMENT
Article continues below this ad
A few days back, it was revealed that Ja Morant had earlier been accused for allegedly punching a 17-year-old boy and threatening him with a gun. Ja's conduct had invited enough rebuke from the world of sports. NFL Legend Shannon Sharpe was among one of the many people who gave Ja a piece of their mind. While discussing the issue on a recent episode of Undisputed, Shannon Sharpe said, "He portrays that he is like something that he is not…he's hustling backwards. You're supposed to once you get out of that environment and say, 'I'll leave that behind' Ja, just move differently, bruh!"
Now, as the Grizzlies star has again made news with a gun, certain NBA fans alluded to the former Super Bowl champion's criticism of Ja and some even held him accountable for Ja's 'stupid' conduct.
This why I didn't think Shannon Sharpe should've shamed Ja the way he did cuz people like Ja just act more stupidly when you do em like that

— ⚜️The B-U-N™⚜️ (@BayouBun) March 4, 2023
Sharpe did not hold back. He said "Now it's my fault Ja acting like this? Got it?" Sharpe seemingly aimed at NBA fans with this, inviting a lot of responses.
Adding to the chaos, some fans took sides with Sharpe to make things worse for NBA fans. "They blaming everyone BUT ja morant" wrote a fan on Twitter.
They blaming everyone BUT ja morant 🤦🏾‍♂️

— Wardo (@mister_eddiee) March 4, 2023
ADVERTISEMENT
Article continues below this ad
Sharpe has had an altercation with Ja's Father
The NFL legend and the NBA star had crossed paths earlier. According to an article on CNN Sports, Sharpe and Ja Morant's father had a heated exchange in January during a Memphis Grizzlies-Los Angeles Lakers match. Moreover, Sharpe was also seen yelling at Grizzlies star Dillon Brooks and at Ja Morant himself. Given the earlier altercation and Sharpe's criticism of Ja's conduct, fans are likely to anticipate a new beef.
Even though Sharpe's reprimand has triggered many NBA fans, Ja's conduct is holding the team's and the league's reputation at stake. With his alleged involvements in physical violence, Ja is inviting trouble for his professional and personal life. Now that he has chosen to indulge in acts that hint of hooliganism again, Ja must surely keep the NBA and himself in mind.
ADVERTISEMENT
Article continues below this ad
WATCH THIS STORY: Why was Stephen Curry Ejected vs Ja Morant's Grizzlies
How do you feel about the behavior of Ja Morant and the reactions it has drawn? Share your views in a comment below.