Top 10 Destinations From James Bond Movies That Will Inspire You To Travel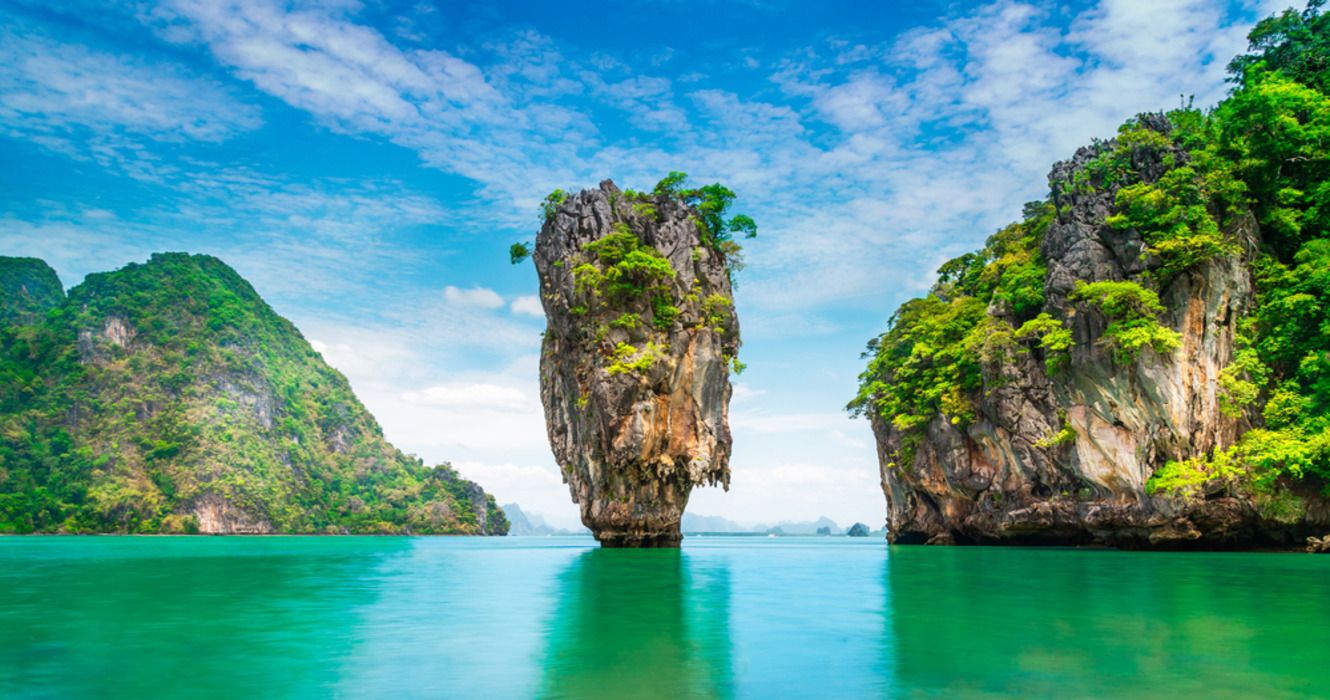 Summary
The James Bond film locations featured in the article include iconic spots all over the world, such as Hong Kong, Istanbul, Brazil, Iceland, Italy, Switzerland, Scotland, London, Florida, and Thailand.
These locations offer fans the opportunity to visit and experience the settings of their favorite James Bond movies, including famous landmarks like The Peninsula in Hong Kong, the Grand Bazaar in Istanbul, Sugarloaf Mountain in Brazil, Jokulsarlon in Iceland, Piazza San Marco in Venice, Glencoe in Scotland, and the MI6 Headquarters in London.
Each location has its own unique appeal, from luxurious hotels and breathtaking views to thrilling landscapes and historical landmarks. Whether it's admiring the beauty of a glacier lake in Iceland or experiencing the vibrant atmosphere of a bustling market in Istanbul, visiting these destinations will make fans feel like they're part of a James Bond adventure.
James Bond is popular all over the world for his heroic roles in movies, and more importantly, the stunts. When he's not jumping off cliffs, he is scaling the walls of skyscrapers, leaping off bridges, or making other daredevil moves like riding a bike on the roof of a building. Fortunately, most of the locations in James Bond films are not created with green screens. They are real and can be visited by fans of the 007 movie character.
While London has the most of the spots, there are plenty of other James Bond film locations spread across the world, including Italy, Brazil, Thailand, Iceland, Turkey, Hong Kong, and India. For fans of these iconic films, here are the top destinations from James Bond movies to visit today.
Related: 10 Places Made Even More Famous By Popular Movies
10
The Peninsula, Hong Kong
The Peninsula Hotel Hong Kong at night
The Peninsula in Hong Kong is the perfect definition of class, royalty, and wealth. This five-star hotel built in colonial-style architecture was used in the filming of the 1974 movie Man With The Golden Gun. At the entrance of this hotel, are a fleet of green Rolls-Royce cars used to transport guests, which inevitably featured in the James Bond movie.
The cast and crew were also lodged in this hotel, and if one isn't on a tight budget, lodging here will be phenomenal. Otherwise, admiring its views will do.
Location: Tsim Sha Tsui, Kowloon, Hong Kong
9
Grand Bazaar, Istanbul
The Grand Bazar in Istanbul Turkey
One of the world's most famous, largest, and oldest covered markets, the Grand Bazaar in Istanbul, was picked for a James Bond film. It was in the movie Skyfall, which began with a James Bond signature hot pursuit scene.
As expected, it was dramatic and crazy, with bikes running through the busy market, some even on the roof. A visit to this world-famous market is a memorable experience that includes feeling like James Bond, and perhaps, a shopping spree.
Location: Istanbul, Turkey
Related: Lord Of The Rings: 12 Real Life Locations You Need To Visit
8
Sugarloaf Mountain, Brazil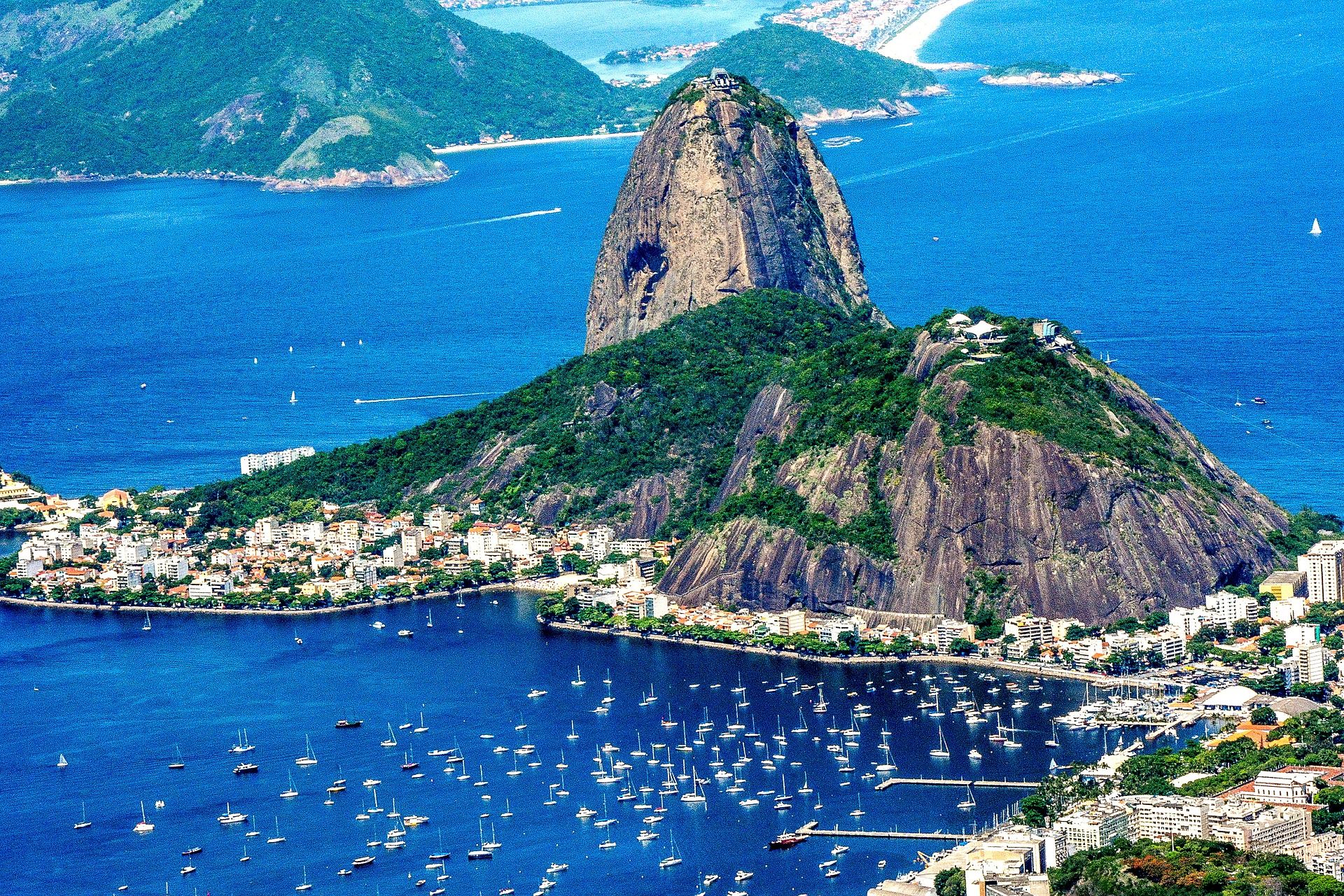 Sugar loaf mountain in Rio de Janeiro Brazil
Sugarloaf Mountain in Brazil is a globally renowned peak overlooking the Bay of Rio de Janeiro on a Peninsula projecting into the Atlantic Ocean. Access to the peak is via a cable car, and it is on this cable car that one of James Bond's fighting scenes was shot.
It was in the 1979 thriller Moonraker, and this death-defying scene marked one of the best highlights of the film. From this peak, panoramic views of Rio de Janeiro are jaw-dropping, and a true James Bond fan will feel like him for a moment while here.
Location: Rio de Janeiro, Brazil
7
Jokulsarlon, Iceland
Iceland is famous for its impressive landscapes and extreme weather. Choosing one of its numerous glacier lakes for a James Bond movie was an intentional decision to infuse elements of thrills. The glacier lake chosen in this country is Jokulsarlon, and it was one of the locations for the movie Die Another Day, which was shot in 2002.
In the film, Bond, in his usual extraordinary display of wits, conducts a car chase across the frozen lake. Even though one might not be able to replicate this feat or meet the lake frozen, just seeing the lagoon in its pristine glory with floating glaciers is satisfying enough. Boat tours are also offered at Jokulsarlon lagoon and the experience is nothing short of amazing.
Location: Near Hofn, South Coast Iceland
Related: 'Game Of Thrones:' What You'll See On The Dubrovnik Tour In Croatia
6
Piazza San Marco, Venice, Italy
Venice is a destination in Italy that looks and feels surreal. Dubbed the floating city or city of bridges due to its many bridges, this enchanting city has buildings separated by canals.
It was the location for the filming of one of James Bond's thrillers Casino Royale in 2006. The movie was shot in the Piazza San Marco, among its iconic, floating palazzos, as James Bond learns of his lover's betrayal and goes in search of the truth. His original mission, however, was to prevent a mob banker from winning a poker game.
5
Piz Gloria, Schilthorn, Switzerland
Piz Gloria in the Swizz Alps
Destinations in Switzerland are magical, and this partly goes to its alpine landscapes. The Piz Gloria, a scenic mountain restaurant at the 9,740 feet-high peak of Schilthorn was the location for the 1969 movie On Her Majesty's Secret Service.
This location was picked while the rotating restaurant was still under construction, and the producers financed its completion in time to use it for the movie. The restaurant features a James Bond Bar, an exhibition center, and enchanting views of the Bernese Alps from its 360 revolving view at the top.
Location: Near Murren, Bernese, Oberland, Switzerland
4
Glencoe, Scotland
Glencoe in Scotland
Scotland is renowned for having some of the UK's best landscapes, and Glencoe is one of them. This naturally alluring village in the highlands of Western Scotland was used in the iconic James Bond 2012 film, Skyfall, as his childhood home.
The village features dramatic snowcapped peaks and green mountains, waterfalls cascading to form small streams, and several trails for hiking. This location is one of the most famous landscapes in Scotland for outdoor pursuits like mountaineering and movie shooting. Even Harry Potter and the Prisoner of Azkaban was also shot here.
3
MI6 Headquarters, London
A panoramic view of London
The MI6 Headquarters in London has been the location for the filming of a few James Bond movies. These include The World Is Not Enough, Die Another Day, Skyfall, and Spectre.
This building was completed in 1994 and became the headquarters of MI6 or the SIS (Secret Intelligence Service) of His Majesty's Government in Britain. It is located in Vauxhall, London, by the banks of the River Thames, and is accessible via the Vauxhall bridge. However, it is not open to the public, and visitors will have to capture its views from the Vauxhall Bridge on the River Thames.
Location: Vauxhall, London, United Kingdom
2
Seven Mile Bridge, Florida, USA
Aerial view of Seven Mile Bridge, Key West
The 1989 movie "License to Kill" was epic by every measurement criteria, and part of its awesomeness was shot at the famous Seven-Mile Bridge in Florida, US. This iconic bridge is part of the Overseas Highway in the Florida Keys and crosses over the Moser Channel.
Typical of a James Bond movie, the scenes here are dramatic and thrilling, as Bond engages in a hot pursuit to pin down a drug lord. The landscape here is gorgeous, and there's another pedestrian bridge to capture its incredible views, while the main bridge is for vehicles.
Location: Florida Keys, Florida, US
1
James Bond Island, Phuket, Thailand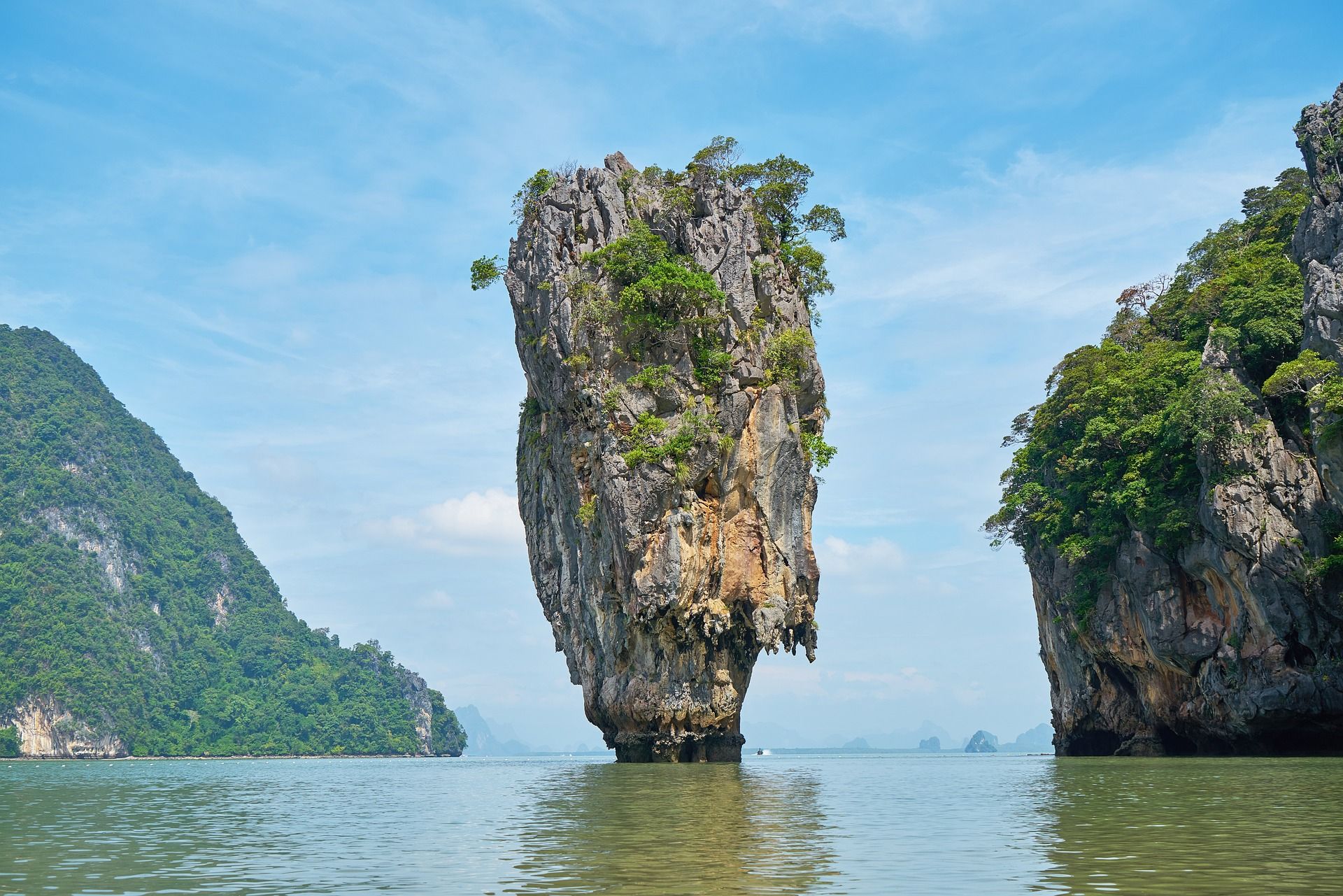 Khao Phing Kan popularly known as James Bond Island in Thailand
Khao Phing Island, better known as James Bond Island because of the movie character, is located about 25km northeast of Phuket. It was the location for the filming of the movie, The Man With The Golden Gun in 1974, and has since become famous with the name James Bond.
This island is a scenic beauty like in the movie, and beyond a James Bond-inspired visit here, visitors will be blown away by its captivating landscape. Several rocky cliffs stand tall from the waters, harboring vegetation and creating a picturesque sight.
Location: Khao Phing Island, Phang Nga Bay, Phucket, Thailand