Turner relishing 'ultimate Test' after dark days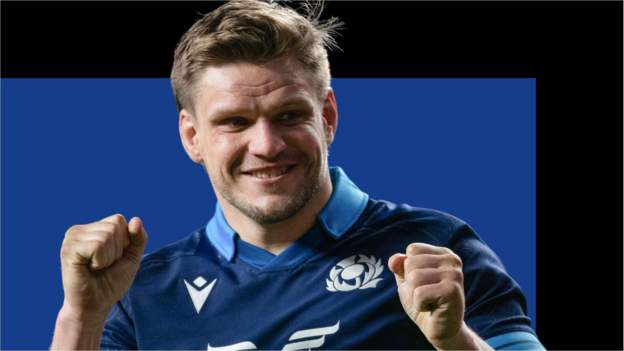 Venue:
Murrayfield, Edinburgh
Date:
Sunday, 12 March
Kick-off:
15:00 GMT
Coverage:
Watch live on BBC One and the BBC Sport website & app, listen to radio commentary & follow text updates
William Turner turned four in early February, his birthday present being a trip far, far away to Shrek's Adventure in London.
Such was the excitement in the swamp that the young lad was spent by the time he got to Twickenham to watch his father play in the Calcutta Cup.
George Turner is wondering if his boy will recall anything of that game in years to come. How much do you remember from when you are four? He's thinking out loud now.
He smiles at the thought of William having a memory of him doing his stuff on the big stage but then counters with a suspicion that he probably slept through the entire thing.
That would have been some feat because Twickenham was loud that day.
Turner's Six Nations has been played out in a cacophony and the decibel levels are only likely to go up when Ireland arrive at Murrayfield on Sunday looking to go four from four in the championship and eight from eight against Scotland.
"They're far and away the best side in the world," he says of Andy Farrell's side. "Would this be our biggest victory? Yeah."
After a long old battle, Turner is now the player in possession of the number two jersey, with 33 caps to his credit. There's a ferocity about the way he performs, an innate toughness about what he delivers.
His arrows out of touch have been good, his scrummaging has been solid, his defence has been as fiery as hell, but it's in the loose where he comes into his own. Twenty-one hard-fought metres against England, 37 against Wales, 47 against France.
"My idea is just to run at the nearest person and hopefully he feels it and we get quick ball," Turners says. "If I ever run at somebody and get through the other side, I wouldn't know what to do. Open space? I'd be looking to find the full-back to run at."
There's a self-effacing tone there. Turner can step, have no doubt about that. It's just that his first instinct is to run as hard and as straight as he can.
"If I know I'm running into a brick wall of defenders, then there's not much point using footwork because it'll only slow me down," he explains. "I'm just thinking gainline, gainline, gainline."
Journey from grump to go-to guy
When you ask him if, at 30, he's now reached the happiest period of his career, he's not inclined to give a straight answer.
Maybe he does not want to jinx it. Maybe the thought of taking a nice moment to consider where he's come from and where he's reached might somehow calm his inner raging bull – and that's the last thing he wants.
He is very much a son of Edinburgh, but the bitter truth is that it never happened for him there. He was a bit-part guy, a lesser-spotted hooker. The lack of opportunities frustrated him massively.
He says that when he was released to go and play club rugby at the weekends he was an angry man engaging in tackle therapy. More than once he was told to cool his jets out there. And that was just in training.
"I just wanted to fire about smashing people," he recalls. "I was at Edinburgh and going nowhere. Middle of winter, slogging away and getting absolutely nothing out of it.
"I was a grump at times. I remember having a fight in training once, which just summed it up. I'd played a couple of games off the bench against Leinster and Ulster, I think, and I was solid. Then I was dropped. No reason.
"I went a bit hard in training and got in a fight. I was just so angry. That might have been my last year with Edinburgh. I wanted to play for them but I needed a move."
Things started to happen under Dave Rennie at Glasgow Warriors. The style of rugby first of all. From Alan Solomons' risk-averse Bokball to Rennie's rollercoaster ride – it was like entering a bright new world.
Almost immediately, Turner got capped for Scotland, his first one against Samoa, his second against the All Blacks. "My debut was unforgettable but playing against New Zealand was just incredible," he remembers. "I even played back-row for a bit.
"I got half a line break, did a cat-flap offload in our own 22. John Barclay [the captain] said 'what the hell are you doing?' Sonny Bill Williams was playing for them. Maybe I thought I was Sonny Bill for a minute. I'll always remember that day."
'When I get a bad one, I get emotional'
Fighting for game time was just one of the battles Turner has faced. Dealing with concussion, or brain injury, was another.
How long has concussion been a factor in his playing career? "Not sure… always," he replies. He remembers one at school, others here and there after that, three in fairly quick order in 2019, which culminated in him being stood down for the last three months of the season.
"When I get a bad one, I get emotional for some reason and I can't stop crying," he explains. "I don't know why. I remember it happening when I was 15 or 16.
"The time I missed the end of the season was when Glasgow made the final of the Pro14 against Leinster at Celtic Park. They sent me to a specialist and all was fine but he said I'd had three quite close together and some in the past as well, so let's be sensible about this. He erred on the side of caution and I'm 100% for that. Scotland's always been hot on this."
In the autumn of 2021, Turner came off early against the Wallabies at Murrayfield. He looked in distress, almost close to tears. That was another concussion, then? Actually, no. "I popped my ribs," he laughs.
"Something happened at a scrum and I popped them and then somehow Duhan [van der Merwe] managed to kick me in the same spot. He absolutely dropped me. I remember coming off and I thought I had a really manly expression, the tough scowly face of a guy sucking up the pain."
If he wins on Sunday, there will be no mistaking the look on his face. "This is the ultimate Test," he says, in the style of a player counting the days until it starts.