UK weather: 'Treacherous conditions' wreak havoc on travel – with more blizzards on the way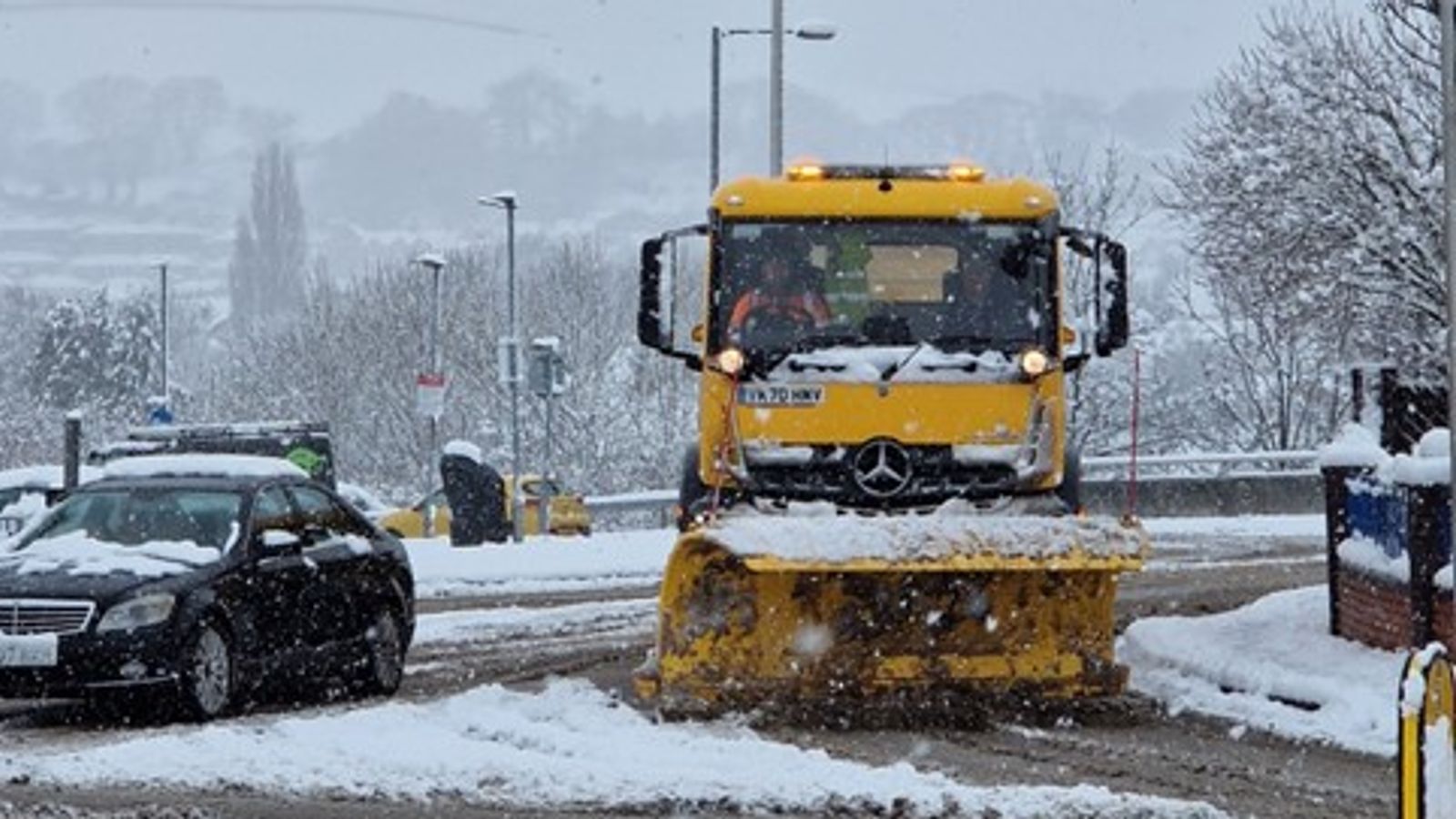 "Hundreds and hundreds" of stranded drivers have been stuck in "never-ending" miles-long tailbacks overnight in heavy snow – and forecasters say blizzards are on the way and will cause "treacherous conditions".
Travellers have been warned of train and flight cancellations, while the Met Office says the cold snap is moving south, as Storm Larisa continues to batter the country.
Icy surfaces are also likely to develop, it warns, with snow drifts bringing "extra hazards" to the roads.
Motorists stuck for hours as snow and high winds bring motorways to a standstill – UK weather updates
The Met Office said the greatest depth of snow recorded was 27cm at Capel Curig in North Wales.
Four yellow warnings for snow covered much of the rest of the nation, with the exception of southeast England and western Scotland.
Heavy snowfall left drivers stranded for more than seven hours on the M62 motorway in Greater Manchester and Yorkshire.
RAC breakdown spokesman Rod Dennis said the situation on the M62 was likely to have been caused by a large amount of snow falling in a short period.
Greater Manchester Police traffic officers said on Friday morning that ploughing and gritting on the motorway had been severely delayed due to drivers illegally using the hard shoulder and red X lanes.
National Highways North-West estimated that congestion on the eastbound carriageway, between Rochdale and Saddleworth, at one point stretched to around eight miles.
Heavy snow brings treacherous conditions as people are urged not to travel

One driver, Kelly, told Sky News earlier this morning: "We've been stuck now for six hours."
Asked how many other motorists were on the road and how long the queue was, she said: "There's, I would say hundreds and hundreds and hundreds. It goes back for 16 miles, I think, one way, and I have no idea how far ahead it goes.
"We have managed to keep the heaters on… I have got my 15-year-old son here with me. I think he thought I was being dramatic, but I was like, we need to take blankets, we need to take coats, just in case, so we were well prepared."
Driver stuck on M62 in Lancashire for six hours

Emma Hamilton, 28, who works for the NHS and is from Yorkshire, said she had been stuck for eight hours travelling from Manchester. She said: "It honestly feels never-ending at this point."
Public transport has also been affected, with Network Rail saying multiple fallen trees have blocked lines between Manchester and Sheffield, meaning no trains can run.
Air travel was also affected with the majority of flights departing Liverpool John Lennon Airport delayed on Friday morning due to "heavy snow falls", with passengers urged to check with their airlines for further updates.
East Midlands Airport was shut for around three hours while flights were suspended at Birmingham Airport to clear snow from the runway and there were also delays at Bristol Airport.
When will the cold snap end?
The weather is expected to clear by the end of Friday, before then being replaced by another low pressure system.
Met Office chief forecaster Jason Kelly said: "The worst of the snowfall in England is over for now, but further weather warnings will be in force to cover the further hazards brought by frost and ice."
The agency has issued a number of yellow weather warnings for snow and ice:
• Two ice alerts – one covering parts of Northern Ireland and another across southern Scotland, northern and eastern England, parts of the Midlands and large parts of Wales – are in place until 10am on Saturday
• An alert for snow and ice covering large swathes of Scotland is in place until 9am on Saturday
• Another snow and ice warning issued from 3pm on Saturday until 6am on Sunday – across northern England and southern Scotland
Meteorologist Alex Deakin said next week could bring a "continued battleground" between colder conditions and milder air pushing in from the Atlantic.
He added there will be "colder interludes" and the "potential for further snow" next week. It isn't unusual for the country to experience a cold snap in spring, when conditions are often "highly variable".
Statistically, the UK is marginally more likely to get snow in March than in December, the Met Office said.
'Gusts of 50mph' and 'treacherous conditions'
Met Office meteorologist Alex Burkill said the worst of the weather was expected in northwest Wales and northern England, where "gusts of easily 50mph" are on a collision course with "30 to 40cm of snow".
A pocket of western Scotland covering Glasgow and the county of Argyll is thought to be the only region untouched by deluges and snowfall.
People living in southern England are expected to bear the brunt of the downpours.
Mr Burkill said: "The combination of heavy snow and gales is why we're likely to see blizzards and drifting snow which causes extra hazards on the roads.
"In places covered by amber warnings, there will be very difficult, treacherous conditions.
"Ideally, avoid travelling in those periods – but if you have to head out then be aware that journeys could take significantly longer."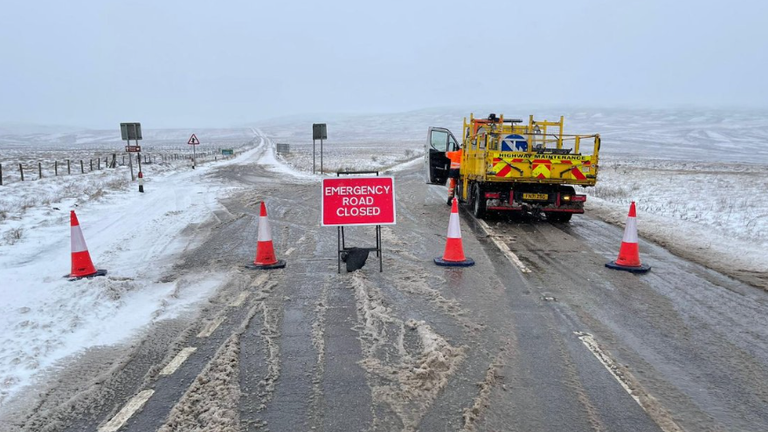 Travel warnings
The RAC on Friday said it has seen a sharp rise in drivers stranded in the snow in Yorkshire – particularly Sheffield, Leeds, Bradford and Hull.
Breakdowns volumes are also very high in the East Midlands and north of London, as motorists attempt to start their vehicles.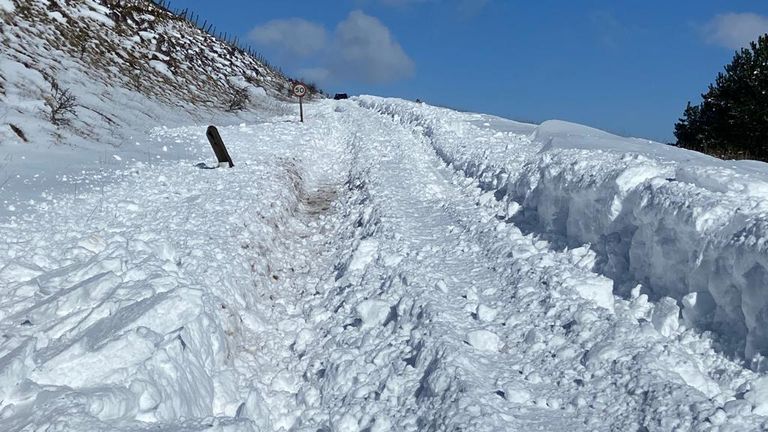 Derbyshire Constabulary urged drivers not to travel in the Peak District on Friday morning "unless absolutely necessary" as most roads in the High Peak and Derbyshire Dales areas were "impassable".
Parts of the A66 in Durham and the A628 Woodhead Pass in South Yorkshire were also shut overnight due to heavy snowfall.