UK's agri-food and drink attachés backing British food and drink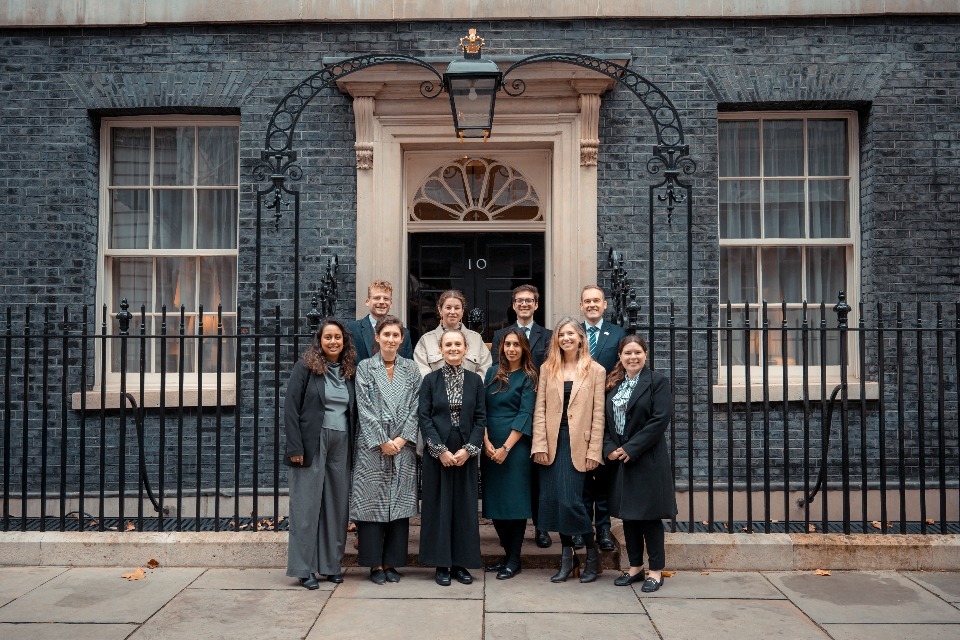 The UK's agri-food and drink attachés were welcomed to 10 Downing Street this morning, marking the start of a week meeting ministers and the nation's food producers.
The eleven attachés based in British embassies and consulates around the world – in Canada, Mexico, USA, Brazil, Kenya, The Gulf, India, Japan, China, Thailand and Vietnam – work to remove trade barriers, identify emerging international markets and tap into growing demand worldwide for quality goods from UK farmers and producers.
In 2023 alone, the attachés have supported the government in resolving 42 agri-food barriers worth an estimated £340 million per year, with 141 new market access agreements delivered since 2020. Their recent successes include securing market access for poultry to Tunisia, sheep embryos to the USA, pork to Chile, trout ova to China and pet food to South Korea.
This week they will tour the UK, from meeting with producers of whisky and seafood in Scotland to visiting egg farms and meat processors in Shropshire. The attachés will gain first-hand experience of food production and deepen their understanding of the farmers and producers whose interests they represent overseas.
Secretary of State for Food and Farming Steve Barclay said:
Backing British farmers is one of my priorities at Defra and our attachés do vital work to ensure they get the best possible deals to export their world-class produce.

We are expanding the attaché network even further next year, so that our excellent food and drink can continue to reach all corners of the globe.
While in the UK, the attachés will meet with Food and Farming Minister Mark Spencer and attend an industry brunch hosted by NFU President Minette Batters, in addition to further meetings with the Scotch Whisky Association, Seafood Scotland, the Agriculture and Horticulture Development Board (AHDB) and the Food and Drink Export Council. 
The week provides an opportunity for the attachés to build their relationships with these key stakeholders and share learnings and insights with each other.
Food and Farming Minister Mark Spencer said:
I look forward to meeting with our agri-food attachés in Westminster this week and thanking them for the brilliant work they do on behalf of our farmers and food producers.

The best of British food and drink is now being enjoyed around the world, from Canada to Vietnam – in part thanks to their skilled negotiating and dedication to seeking out new export opportunities.
Minister for Exports Lord Offord said:
Growing the agri, food and drink sector is key to boosting our economy and will be vital in our race to reach £1 trillion of exports by 2030.

Thanks to the work of our agri-food attachés, we're helping more businesses break into new markets and benefit from exciting new opportunities across the world.
Defra's agri-food attaché for Africa said:
Africa is poised to be one of the world's biggest global consumer markets, with a growing middle class and a keen appetite for UK products.

I am thrilled to take part in the attaché engagement week and look forward to meeting with farmers and food producers to discuss how I can help send Scottish salmon to Morocco, whisky to Kenya, poultry to West and Central Africa, and renowned British confectionary to Egypt.
At the Prime Minister's Farm to Fork Summit in May, it was announced that five additional attachés would be recruited to expand the network further – attachés covering the regions of Australia and New Zealand; North Europe; South Europe; South Korea and an additional attaché in Africa are expected to be in post by May 2024.
NFU President Minette Batters said:
Agri-food attachés play a vital role in delivering our shared ambition of boosting high-quality, climate-friendly British exports abroad which is why we campaigned to grow their number. I'm delighted this network has increased in recent months and I hope it will continue given the incredibly important work they do.

I look forward to working directly with the attachés this week to share the passion and knowledge within our sector, and ultimately help give them the tools to be the best ambassadors possible for great British produce overseas.
Dr Phil Hadley, AHDB International Trade Development Director, said:
We are delighted to play a part in hosting the visit of the government's agri-food attachés. AHDB recognises the valuable role they play in helping drive export growth. We applaud the government's continued efforts to expand the agri-food attaché network further to maximise opportunities for our products in global markets.

One of AHDB's key strategic objectives is export development, working collaboratively with industry and government, to cultivate further opportunities for our red meat and dairy sectors. The visit of the agri-food attachés will help cement our shared ambition to continue delivering export growth for our high-quality produce.
Donna Fordyce, CEO of Seafood Scotland said:
The attachés will visit a Bakkafrost salmon farm, which will include a boat trip to see the pens and discover how the fish are carefully reared in a healthy environment.  Scotland's aquaculture sector is of great importance to our nation's economy and we are proud to showcase best practice in action.

This is a fantastic opportunity for the industry – and us – to engage with attachés from around the world, who each do so much to support our sector with market access and development opportunities.
Ian McKendrick, International Director at the Scotch Whisky Association, said:
Supporting our member companies to reduce and remove barriers to trade in established and emerging markets is a key priority, and we work closely with the agri-food and drink attachés and DEFRA to secure the best possible international environment for Scotch Whisky.

The placement of attachés in key markets around the world, means their input, analysis and market intelligence is a vital channel of information for the industry.
We are pleased to be able to host them on a fact-finding mission to Scotland, so they can deepen their knowledge of Scotch Whisky and the industry's priorities so they are better able to speak with authority on issues which impact the industry, and help drive export growth.