Women change behaviour to feel safe on public transport, review finds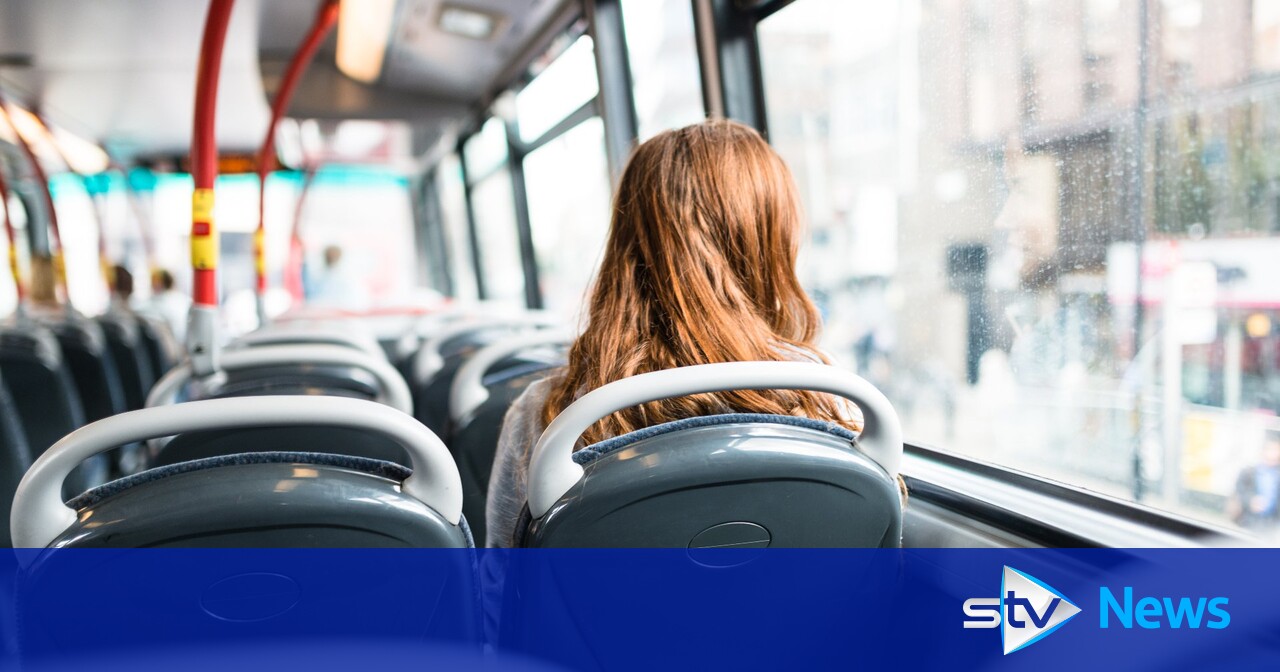 Women using Scotland's public transport service should be able to travel safely and "men should learn to behave themselves", a minister said as a new review into the issue was published.
Transport minister Jenny Gilruth last year commissioned a review into the safety of women on the network, with the final report published on Tuesday.
The report found women were already "shouldering significant responsibility for adapting their behaviours to try to 'be' and to 'feel' safe when travelling on public transport".
More "systemic change, supported by more practical interventions is required to enhance safety further and give women and girls a greater sense of freedom to maximise the opportunities afforded by public transport travel", the report added.
Addressing the issue during a debate in Holyrood, Gilruth said the majority of the women involved in the review reported they had to remain vigilant while travelling.
"Women and girls recounted previous experiences of being the target of inappropriate comments that were sexual in nature and unwanted attention from male passengers," she said.
"The majority of contributors seem to accept that that was typical or not unexpected when travelling by public transport, especially late at night."
Gilruth added: "Women should be able travel on our public transport networks in safety and men should learn how to behave themselves."
The minister said women had resorted to keeping their keys in their hands to be used as weapons, worn flat shoes to be able to run away, asked for a male friend or relative to meet them as they come home or avoided public transport altogether due to safety concerns.
"The point in all of this that I was trying to address is just how exhausting it is to be a woman in Scotland in 2023 and just to want to travel home safely," she said.
The research spoke to 35 women from a "diverse range of backgrounds", aged between 14 and 86, about their experiences on public transport, either as a user or member of staff.
All respondents, the report found, reported at least one instance of unwanted attention or "other more serious incidents".
The report made a number of recommendations, but the minister said it would require "collective effort and ongoing collaboration" to make the necessary changes.
The research was welcomed by opposition parties, with Scottish Tory transport spokesman Graham Simpson saying: "Men really have to reflect on their own behaviour because we, men, are the problem here.
"It's not the women, it's men causing the issues for women."
He added: "You shouldn't have to sit close to other women on board public transport, or sit next to families because it might be considered safer, you shouldn't have to make telephone calls to friends or family while making journeys so that someone can track your journey's progress, you shouldn't have to ask male relatives or friends to meet you at bus stops or stations to accompany you on the last part of the journey home or wear flat shoes or trainers to be able to run away or escape if necessary."
While Labour transport spokesman Neil Bibby said: "I've said it before and I'll say it again – there's a duty on all of us, including men, to do whatever it takes to help tackle this issue including challenging the behaviour of other men, whether strangers or friends.
He added: "I also don't think it's possible for me to fully appreciate the experiences and feelings of women and girls when using our public transport, but there's a duty on all men to try and fully understand them and to do something about it."