World Tennis Day: "We are just thankful that a little fuzzy yellow ball can bring them happiness" – Joseph Oyebog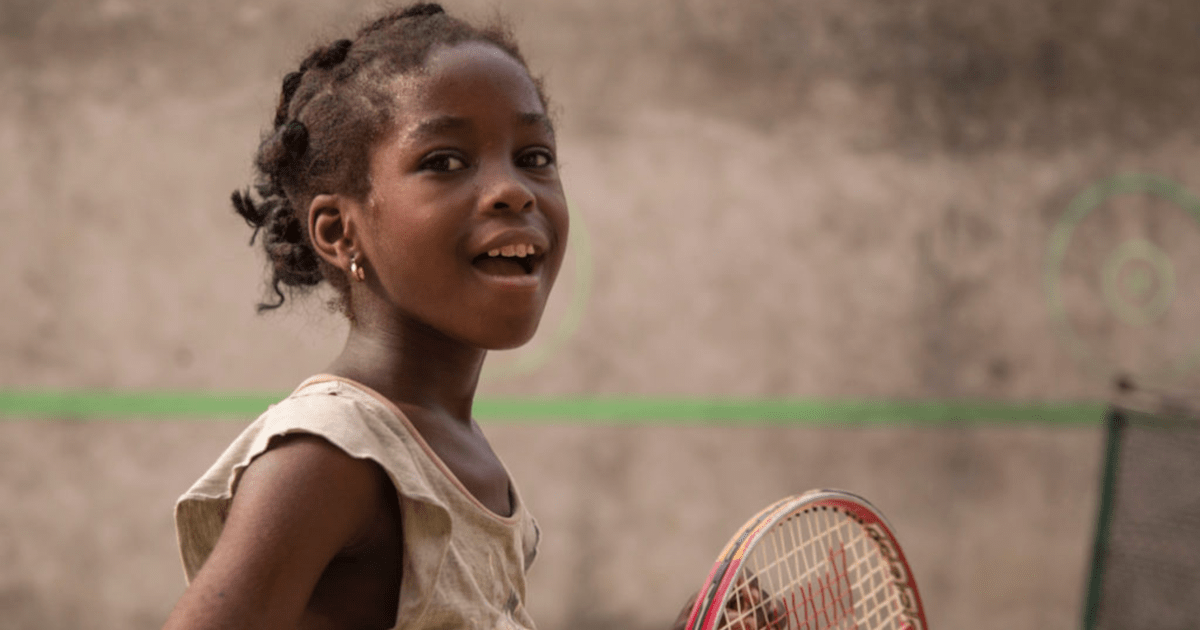 An emotional Stadfany Nformi ducked her head under the tennis racquet guard of honour, making her way under the unorthodox bridge as her teammates cheered.
The teenager was leaving the Oyebog Tennis Academy (OTA) in Cameroon in January, to take up a four-year scholarship at the University of North Texas and was receiving the traditional send-off.
Twenty-one of her contemporaries had done the same having obtained college scholarships or coaching positions in the US and Europe courtesy of the not-for-profit organisation set up by former professional player, Joseph Oyebog in 1999.
Dedicated to providing a safe haven from the oppression of poverty and giving an opportunity to improve lives through the sport, the charity has provided more than 20,000 children with access to tennis equipment, food, clothing, education, and tournament opportunities for the past 24 years. Important life skills including teamwork, determination, perseverance, kindness and generosity are learned through the sport, too, and the self-confidence gained is invaluable.
"Over war, malaria, and HIV, the program is a safe haven for children; a place to go where they feel great about themselves," said founder Oyebog on the OTA website. "When I see a kid on the court smiling, with something else to think about besides illness and when their next meal will come; when they have some light in their lives, I know it is all worth it."
Future proofing via tennis
Oyebog's interest in the sport, traditionally seen as only for the wealthy in Cameroon, was sparked when he saw a local match taking place on the way to primary school one day.
"I just fell in love with the game," he said in an interview with CNN in June. "I just couldn't stop going to the tennis court. My parents decided to send me away to a boarding school and there were tennis courts there and the passion only kept growing."
After a few years, Oyebog progressed to the junior Cameroon national team, then the seniors, before being sponsored to go to France and the United States where he played college tennis. Another dream was sparked for the former Cameroon Davis Cup player and national champion, however. "It was so much fun, travelling the world and playing the game of tennis, and I wanted to share that with the less fortunate."
Oyebog started out by retrieving tennis balls out of trash cans in the US and sending them home. He turned his mother's backyard into a court – affectionately known as The Wall – which became the academy that bears his name.
"Here there are children who don't know where to go after school," says coach Lucas Njim on the impact of the programme. "When the initiative was born in the neighbourhood, we recruited them and sent them to this tennis court… Tennis is good for their life."
The academy supports children aged three to 18 from disadvantaged backgrounds and encourages life skills and team spirit such as everyone helping out by cleaning up after group activities, which instills important values.
Life goals
Earning a living from tennis is hard agrees Oyebog but just playing the sport opens up opportunities to these kids with roles such as coaches, referees and tournament directors he says.
"My goal is not just to focus on the dream of having our next player," says Oyebog, "but to give every child the opportunity to get a decent life."
Nkwain Cliford, an alumnus from the academy, returned to The Wall in August after playing in the Davis Cup in Cameroon in July.
"Sharing my thoughts and experience with the children is a pleasure," said Cliford on the OTA Instagram account, "and also a great example I learned from my mentor, Mr Joseph Oyebog."
Student life
Oyebog has since opened 25 centres across the country and, following a single donation in 2012, has built the Souza Academy on a sixteen-acre (0.65 square km) plot of land 32 km outside of Douala, the economic capital of Cameroon.
Forty children live, train, and attend school on the Souza Campus with at least another 100 children from the OTA programme coming to train at the facility.
An oasis for the children of OTA, it's a place they can live, study and train.
"Education is always the ultimate gift," said Oyebog, "so I make sure they stay in school and also make sure they play tennis because tennis opens the windows of opportunity for them."
Set for life
"OTA has taught me to be honest, courageous, neat and intelligent," said Charnelle, 12 at the time, of a promotional video posted on the OTA Cameroon website interviewing kids who have benefitted from the project. "They have always trained me free of charge, the coaches respect me… They give me a lot of things… clothes, shoes, racquets, everything."
Charnelle has plans ­– she wants to be world champion. Immaculate, 14, whose favourite lesson in school is literature, wants to be a footballer. Yet dreams are not restricted to the sporting arenas. Kelly, 14, wants to be a bank manager, Stephan, 14, an accountant, Gabrielle, 12, a doctor and Che Junior, 12, a ship mechanic.
"I want them to believe in their dreams and striving hard," said Oyebog. "We are just thankful that a little fuzzy yellow ball can bring them happiness."